Plant, Soil, and Agricultural Systems News - 2017
---
05/30/2017
Swamp rabbit focus of habitat study in Cypress Creek refuge

---
Plant, Soil, and Agricultural Systems News - 2016
---
11/27/2016
Navigating New Food Safety Rules
One of the first steps in helping local food producers cope with new food safety laws is figuring out what information they need.
---
07/07/2016
Researchers Shining Light on Food Waste, Freshness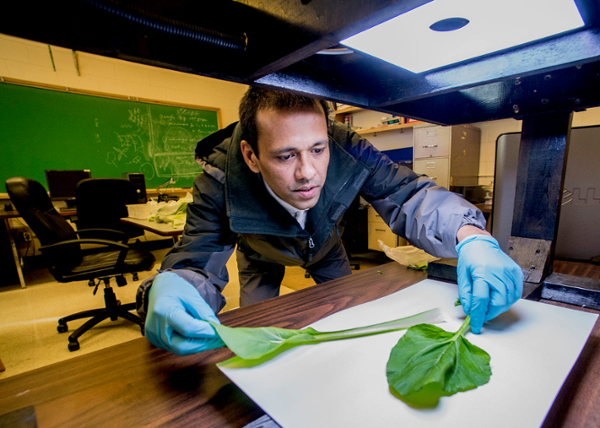 Ruplal Choudhary, a bioprocess engineer and associate professor of plant, soil and agricultural systems, and other researchers at Southern Illinois University Carbondale are working at several stages of the farm to table (and beyond) cycle to find ways to reduce waste without sacrificing nutrition and taste.
---
04/25/2016
Walters Brings Vegetable Savvy to Morocco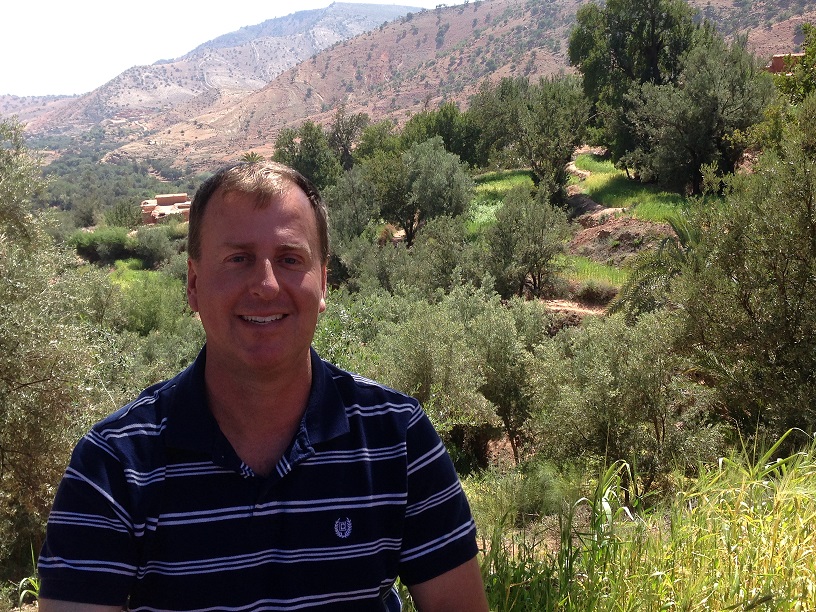 Consumers want consistency. They want to buy a pepper that's the same size as other peppers, and they want carrots the same color as other carrots. That seems simple enough.
---
Plant, Soil, and Agricultural Systems News - 2015
---
12/15/2015
Indian Spice May Improve Food Safety, Freshness
An Indian spice might hold the key to improving the shelf life of fresh produce and even in curbing E. coli outbreaks.
---
10/29/2015
SIU Alumna Leads Weed Science Program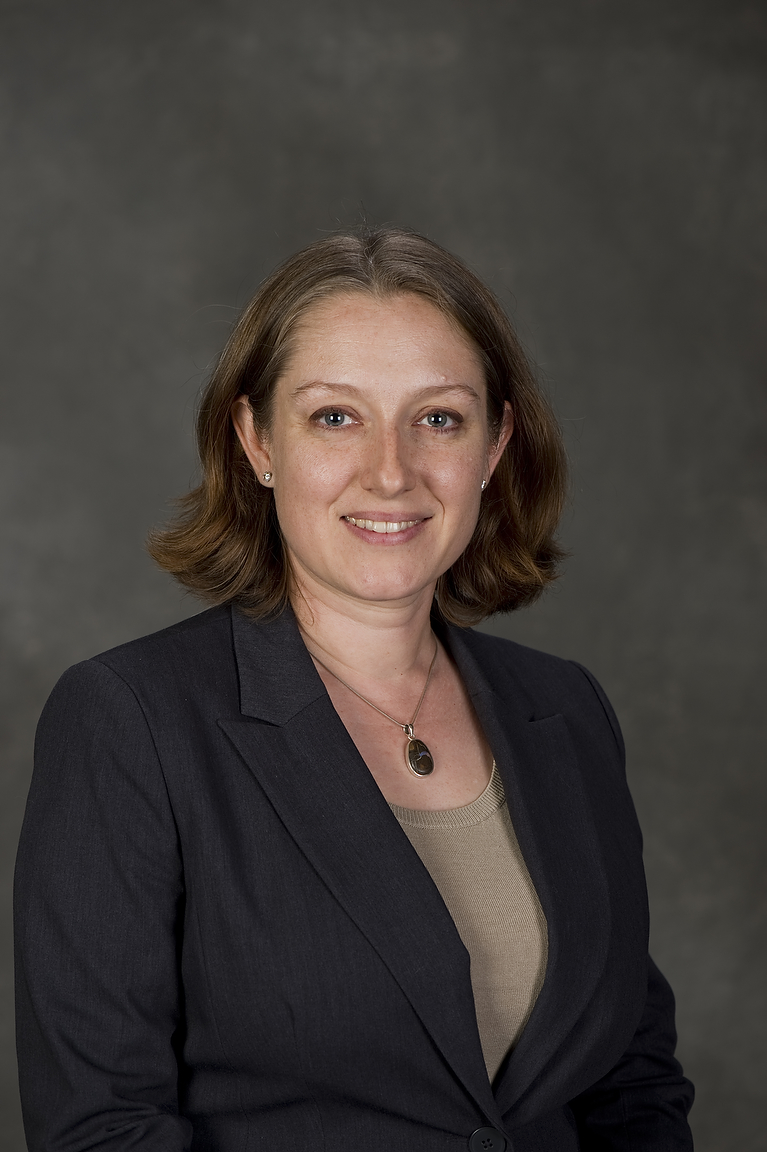 An alumna returns to Southern Illinois University Carbondale to head up the weed science program in the College of Agricultural Sciences.
---
10/26/2015
Plant Pathologist Monitors Seasonal Crop Diseases
He might not be exactly happy when he sees brown spots on soybean or corn leaves in his fields, but if a new disease is in the area, Jason Bond sees it as an opportunity for research.
---
07/30/2015
Students Learning High-Flying Farming Techniques
Beginning in the fall, students at Southern Illinois University will be able to take classes in Unmanned Aerial Vehicles, or drones.
---
04/27/2015
Faculty and Student Research Leads to New Soybean Lines by Andrea Hahn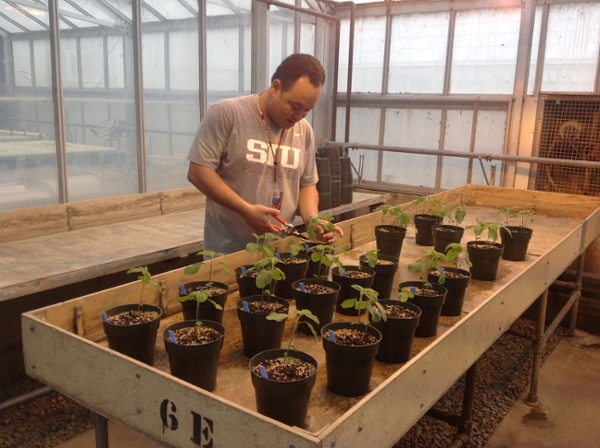 Southern Illinois University Carbondale's Soybean Breeding and Genetics Program has produced several new, high-yield, disease-resistant soybean lines in recent years.
---
01/30/2015
Student to Meet With Nation's Ag Industry Leaders
Emily Loehmer, a Southern Illinois University Carbondale graduate student, wants to make an impact in public health nutrition. She'll have the chance to meet policy makers and experts in that area at the U.S. Department of Agriculture's Agricultural Outlook Forum next month as a participant in the Student Diversity Program, a section of the forum.
---
01/08/2015
New Facilities by Andrea Hahn
When your lab class is in a barn, field or a greenhouse, it makes sense that your classroom is there too. SIU recently added a new classroom at the Agronomy Research Center.
---
Plant, Soil, and Agricultural Systems News - 2014
---
07/23/2014
Student Spotlight - Austin Little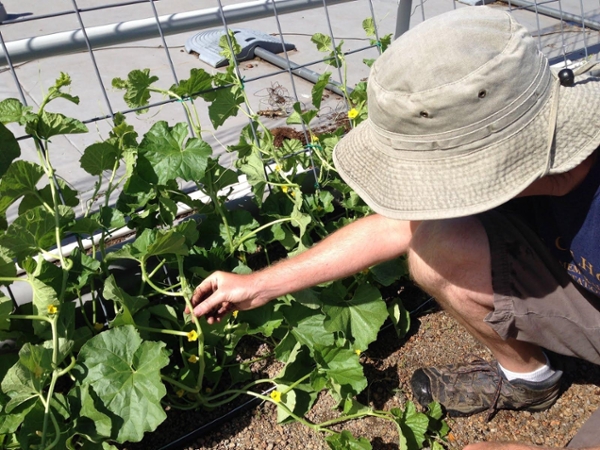 Austin Little, crop production researcher, examines the efficacy of fertilizer treatments to produce the sweeter melons and peppers on a green roof.
---
06/24/2014
New Composting Facility to Open Next Month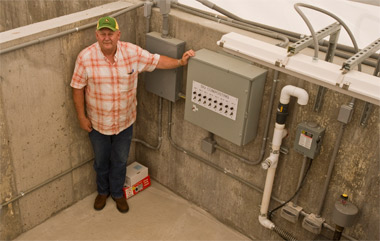 College of Agricultural Sciences opens largest compost facility in the Midwest to add to its campus sustainability efforts.
---
06/16/2014
Local Teachers Take Summer Agriculture Course
Area agriculture teachers participated in the Summer Agriculture Institute last week to update their knowledge about the industry.
---
06/09/2014
Horseradish Roots Run Deep In The Metro East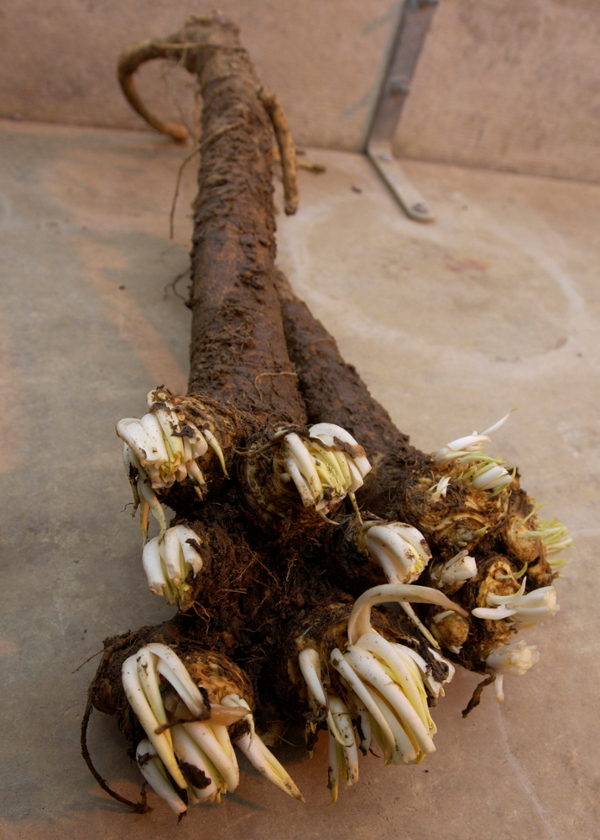 SIU Alumni Jeff Heepke talks about the horseradish industry in Southern Illinois and why, "Horseradish is not just a condiment, it's an ingredient!"
---
05/11/2014
Department Welcomes New Chair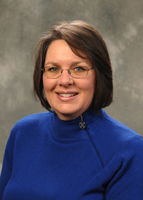 On January 1, 2014, the Department of Plant, Soil and Agricultural Systems welcomed Dr. Karen Jones as the new Department Chair! Welcome!
---
03/21/2014
SIU Adds Disease-Resistant Soybean Lines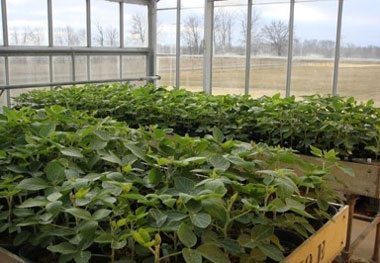 SIU is helping Midwest soybean farmers combat the soybean cyst nematode, using the soybean itself to do it.
---
Plant, Soil, and Agricultural Systems News - 2013
---
12/10/2013
Student Spotlight - Hunter Adams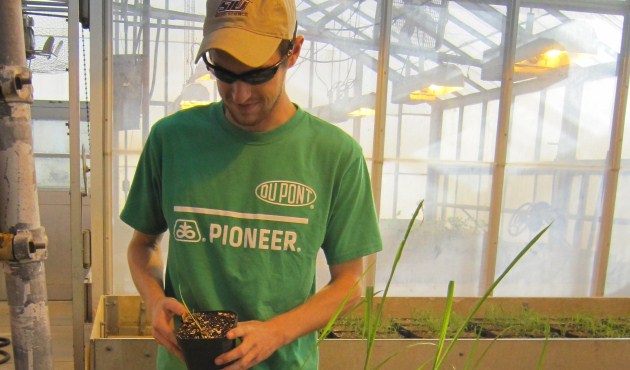 Hunter Adams is a Herbicide Resistant Weed Investigator. His work involves processing seed, propagating plants and evaluating herbicide efficacy.
---
11/25/2013
Student Spotlight - Amanda Weidhuner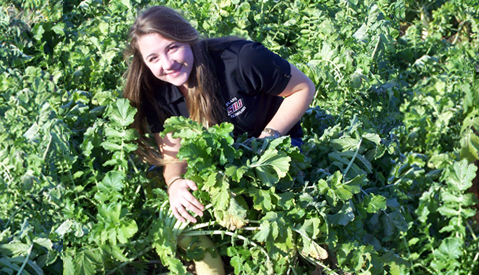 As a REACH Award recipient, Amanda Weidhuner is working on a research project on plant production. She is investigating cover crops and their impact on spring broccoli.
---
10/03/2013
University Farms Hosts Soil Science Judging Contest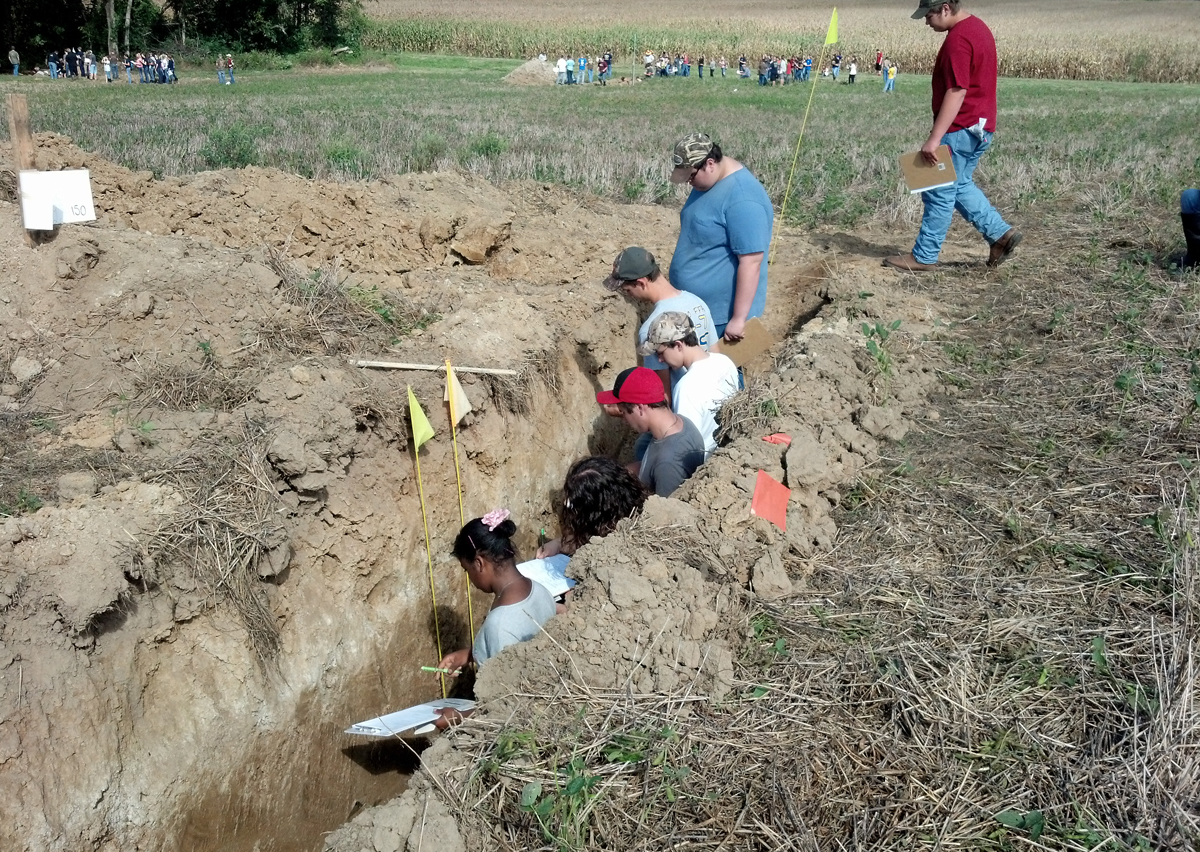 Area high school students visited University Farms to learn about soil science at the FFA sponsored Soil Science competition, and learn about forestry-related topics at Forestry Field Day.
---
05/29/2013
SIU Researcher Developes New High-Yield Soybean


Farmers looking for a high-yield soybean variety with built-in disease resistance may want to check-out Saluki 4313. The seed variety developed by Dr. Stella Kantartzi has produced great results in USDA uniform tests.
---
05/14/2013
Student Spotlight - Nick Frederking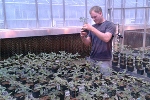 As an undergraduate, Nick Frederking worked as a herbicide-resistant weed investigator. He performed data collection, plant propagation and evaluated plant/seed samples.
---
03/19/2013
Horticulture Club PLANET Results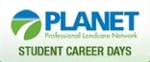 Congratulations to the Horticulture Association students who participated at the 2013 PLANET Student Career Days. The team placed 44th out of 63 teams.
---
01/18/2013
Council Accepting 'Green' Project Applications by Christi Mathis
The SIU Sustainability Council is accepting applications for a new funding cycle for "green" projects on campus. The application deadline is March 22, with the announcement of winning projects set for Earth Day, April 22.
---
Plant, Soil, and Agricultural Systems News - 2012
---
10/15/2012
Key Soybean Cyst Nematode Findings in 'Nature' by Andrea Hahn
A team of scientists, including several from Southern Illinois University Carbondale, may have unlocked the mystery of why some soybeans are resistant to the devastating soybean cyst nematode.
---
06/15/2012
Food Works' Focus is Local Sustainable Food Systems by Christi Mathis
A new tenant at Southern Illinois University Carbondale's Illinois Small Business Incubator is working to develop local sustainable food systems, which in turn will enhance the region's economy.
---
Plant, Soil, and Agricultural Systems News - 2011
---
06/29/2011
$7 Million Grant Fuels Sustainability Research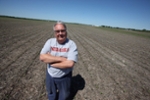 Howard G. Buffett, philanthropist, has funded a $7M grant to fund research on his 2,500 acre farm southwest of Decatur. The team of researchers will conduct experiments in land plots (ranging in size from 8 acres to 40 acres) with a focus on the study of long-term sustainable practices with an eye toward making growers successful, protecting the environment, and feeding the world.
---
02/28/2011
College Receives Award For Afghanistan Efforts


As part of its ongoing global education efforts, the College of Agricultural Sciences was more than happy to step-up to the plate and partner with the US National Guard to train soldiers involved with an agribusiness development team. Fifteen of the College's faculty helped train 22 soldiers at the SIUC farms in preparation for their deployment to Afghanistan. The objective for the training was for the team to assist with rebuilding the rural and cultural infrastructure in Afghanistan.
---
Plant, Soil, and Agricultural Systems News - 2010
---
12/01/2010
Would You Like Calcium And Kelp With Your "Cookies?"


Plant propagators have been producing new plants using manmade seeds for years. Laurie George, a doctoral student in Plant and Soil Science, has developed a new process that can yield nearly five times as many plants as the artificial seeds do. Using a mixture of kelp, calcium chloride and tissue culture, George has a developed a "cookie" which is chemically similar to natural seed coverings.
---
11/17/2010
Soybean Breeder Works To Stop Spread Of Soybean Virus


Plant scientists report that a new virus is attacking soybeans in southern states. Dr. Stella Kantartzi, Assistant Professor of Plant and Soil Science, is researching the virus. Plants showing signs of the virus exhibit yellow splotches near the veins on their leaves. As the disease takes firm hold on the plant, the patches grow larger and darker, giving the leaf a scorched appearance. Kantartzi's work will include investigating DNA markers in plants that show signs of resisting the virus and working to create varieties that will be resistant to the virus.
---
10/20/2010
No-Till Technique Good For Pumpkins


Dr. S. Alan Walters, an Associate Professor in Plant and Soil Science, has conducted research on no-till techniques for vegetable production for years. Tilling increases the break-down of organic matter in the soil, where no-till builds organic matter.
---
09/23/2010
Green Roof Open House Big Hit!


As part of the 2011 Agriculture Industry Days at the College of Agricultural Sciences, people flocked to visit the new green roof atop the Agriculture Building.
---
07/08/2010
Herbicide-Resistant Weeds Affecting Soybean Fields

Ever get annoyed by candles that re-light after you have blown them out? Dr. Bryan Young feels the same way about weeds that come back after they have been sprayed with herbicide.
---
03/31/2010
Ag Student Receives "Real World" Experience With Internships


The College of Agricultural Sciences provides its students with numerous internship opportunities. Internships are a way for students to in gain "real world" experience or explore different careers. Kathleen Carmack, a senior in plant and soil science, has taken advantage of two internships during her undergraduate career.
---
Plant, Soil, and Agricultural Systems News - 2009
---
11/10/2009
Soybean Breeding Has Non-GM Focus
Researchers are noticing a higher demand for non-GM soybeans.
---
10/14/2009
Researcher Studies Aflatoxin Poisoning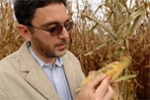 Aflatoxin is a type of fungal toxin that is generally linked to food-borne illnesses, and even death. Dr. Ahmad Fakhoury, a plant pathologist, is studying how the toxin is produced, the genetics involves, and what triggers the production.
---
07/17/2009
Go Worms Go!


Can worms compete with giant chemical companies in the production of quality fertilizer compost?
---
Plant, Soil, and Agricultural Systems News - 2008
---
05/21/2008
Department Welcomes New Soybean Breeder!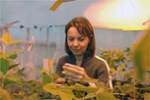 Dr. Stella Kantartzi joined the faculty on August 16, 2008. She brings with her a strong research base in molecular biology techniques.
---
05/16/2008
Researcher Enhances Horseradish Specialty Crops


As the developer of new horseradish cultivars, Dr. S. Alan Walters, enjoys producing hybrid plants for producers across the midwest.
---
01/04/2008
SIUC SDS Research Leads To Patent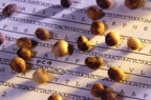 According to soybean farmers, the phrase "Sudden Death" does not refer to an overtime period in a sporting event. Sudden Death Syndrome (SDS) is a fungal disease that costs the soybean industry millions of dollars each year.
---
Plant, Soil, and Agricultural Systems News - 2007
---
10/22/2007
Re-engineering The Soybean For Biodiesel


Could soybeans be used to produce an alternative fuel source for America? Researchers believe that with a few "tweaks," soybeans could be bred to produce an oilier product specifically for the biodisel industry.
---
03/14/2007
Yeast Research May Help Boost Ethanol Production


Researchers are "buzzed" over the possibility of using yeast to boost ethanol production. Dr. Ahmad Fakhoury, plant pathologist, spends his days investigating fungal genetics and the industrial applications of microbes.
---
Plant, Soil, and Agricultural Systems News - 2006
---
10/31/2006
Students Assess Best Ground Cover For Campus


Did you ever wonder which is the better and cheaper ground cover? Zoysia or fescue?
---
10/09/2006
Soybean Research Produces New Varieties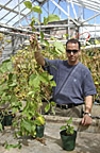 Dr. Khalid Meksem, SIUC crop researcher for the College of Agricultural Sciences, received a three-year grant to study "mutant plants." Meksem studies the plants in order to identify desirable genetic traits, single them out, and then bred plants to include the genetic changes.
---
06/13/2006
Asian Rust Watch


The State's agricultural scientists stand watch over the entry of a destructive soybean fungal disease, Asian Rust. During the flowering stage, infected plants begin to show symptoms of the disease. As a result, researchers have established sentinel plots with early maturing soybean varieties in an attempt to catch the problem more quickly.
---
04/25/2006
SIUC Providing Product Information To Farmers Via The Web


Advertisements can be misleading. In some cases, manufacturers resort to lying about their product in hopes of increasing sales.
---