Clubs and Organizations News - 2015
---
05/07/2015
2015-2016 SIU College of Agricultural Sciences Agbassadors
The College of Agricultural Sciences welcomes the new Agbassadors team for the 2015-2016 semesters.
---
01/30/2015
Student to Meet With Nation's Ag Industry Leaders
Emily Loehmer, a Southern Illinois University Carbondale graduate student, wants to make an impact in public health nutrition. She'll have the chance to meet policy makers and experts in that area at the U.S. Department of Agriculture's Agricultural Outlook Forum next month as a participant in the Student Diversity Program, a section of the forum.
---
Clubs and Organizations News - 2014
---
04/23/2014
Students Trade in the Beach for Gardens for Alternative Spring Break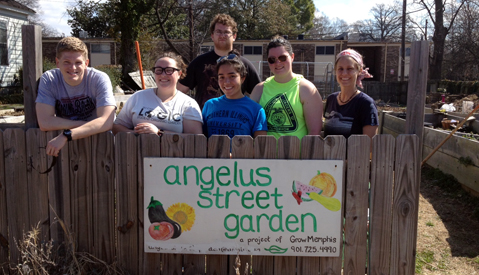 Students volunteered to participate in social service and/or environmental justice activities as part of the Alternative Spring Break.
---
Clubs and Organizations News - 2013
---
09/23/2013
Forestry Team Wins Competition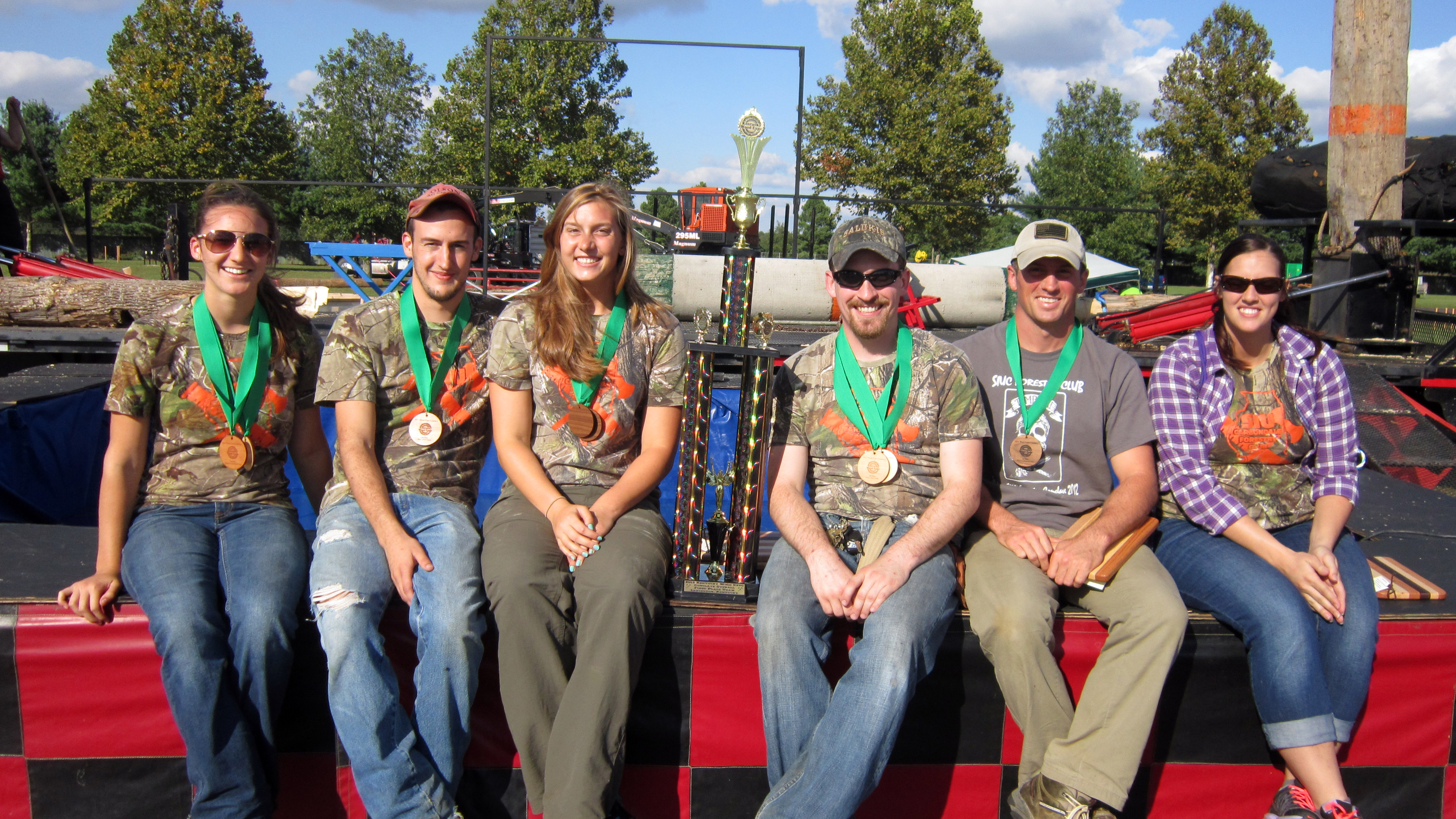 On September 21, the Forestry Team traveled to the Kentucky Wood Expo to compete against teams from the Midwest in a forestry competition. The team landed first place!
---
03/19/2013
Horticulture Club PLANET Results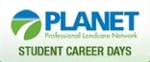 Congratulations to the Horticulture Association students who participated at the 2013 PLANET Student Career Days. The team placed 44th out of 63 teams.
---
Clubs and Organizations News - 2011
---
09/06/2011
AWRA Wins National Honors


The American Water Resources organization recently named the SIUC group as its most "Outstanding Student Chapter" in country. Dr. Karl Williard, Professor of Forestry, said the club's success stems from the energy, enthusiasm, and commitment from club members.
---
Clubs and Organizations News - 2010
---
11/10/2010
Saluki Heritage Interpreters [SHI] Create Understanding


"Everything everywhere speaks to us, but we often don't understand what is said. Interpreters help us make sense of the stories the natural world, historical objects and cultural remnants have to tell us. At Southern Illinois University Carbondale, a group of forestry students is learning to give those stories a voice.
---
02/02/2010
Livestock Judging Team Off To Good Start
The Lifestock Judging Team headed to Denver, CO for its first competition at the National Western Stock Show, January 15-16, 2010. The team scored a 10th place in the "carload-judging event." And junior, Ryan D. Kinney (Animal Science), won top overall in the "carload-judging" competition. Ryan Orrick, team coach, commented, "That was a special honor. It was the highlight of the trip." Other team members representing SIUC included: Lauren Evans (agribusiness economics), Derek Moore (agribusiness economics), Karra Kirby (animal science), Donna Drebes (agribusiness economics), and David Strathman (animal science).
---
Clubs and Organizations News - 2009
---
09/01/2009
Livestock Judging Team Has Fresh Start


Under the leadership of SIUC graduate student Ryan Orrick, the SIUC Livestock Judging Team has a new start. After the team was dropped over two decades ago, Orrick is resurrecting the program.
---
Clubs and Organizations News - 2008
---
06/04/2008
Equestrian Team Member Competes In National Competition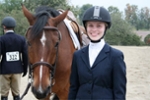 Cornman qualified to attend the National Championship for the Intercollegiate Horse Show Association. The event was held at the Los Angeles Equestrian Center in May 2008. Although Cornman didn't place at the event, she looks forward to saddling up for the Equestrian Team for next season.
---
01/30/2008
Forestry Student Volunteers Efforts To "Make A Difference"
Jim Muhlhausen, a Forestry major, volunteers his time with the Saluki Volunteer Corps.
---
Clubs and Organizations News - 2007
---
10/31/2007
Forestry Club Brings Home The Gold For The 16th Straight Year


The SIUC Forestry Club recently competed in the Midwestern Foresters Conclave Competition held on October 6, 2007 in Madrid, Iowa.
---
04/17/2007
"MANRRS" Places In National Competitions
Two students from the SIUC chapter of Minorities in Agriculture, Natural Resources and Related Sciences placed in a national competition in Birmingham, AL in April.
---
Clubs and Organizations News - 2006
---
10/31/2006
Horse Judging Team Does Well In First Competition
The SIUC Horse Judging Team was formed in August, 2006 after a group of student approached Dr. Gary Minish, Dean of the College of Agricultural Sciences, and persuaded him to put together the team. Stephanie Speiser, an Animal Science Instructor, took on the challenge of putting together the eight-member team. Upon attending its first competition in Oklahoma City in mid-October, the group brought back 19 shiny new ribbons for their accomplishments.
---
10/25/2006
Students Create A Special Garden In Honor Of Their Classmate
Members of the Agricultural Education Club worked to create a living memorial in memory of one of their fallen classmates, Kara L. Gruenenfelder.
---