Student Research News - 2017
---
05/29/2017
Research and study abroad highlights of SIU career for soil science by Andrea Hahn

---
Student Research News - 2015
---
04/28/2015
Student Researcher Investigates Swine Feed Efficiency by Andrea Hahn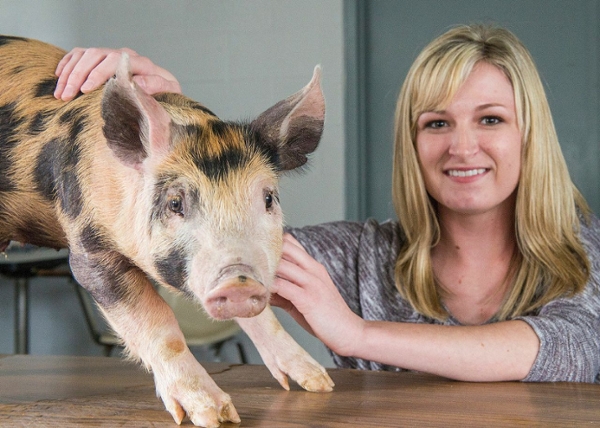 Hannah West, a senior animal science major at Southern Illinois University Carbondale, is involved in a study that ultimately may improve swine feed efficiency at the SIU Swine Farm.
---
04/27/2015
Faculty and Student Research Leads to New Soybean Lines by Andrea Hahn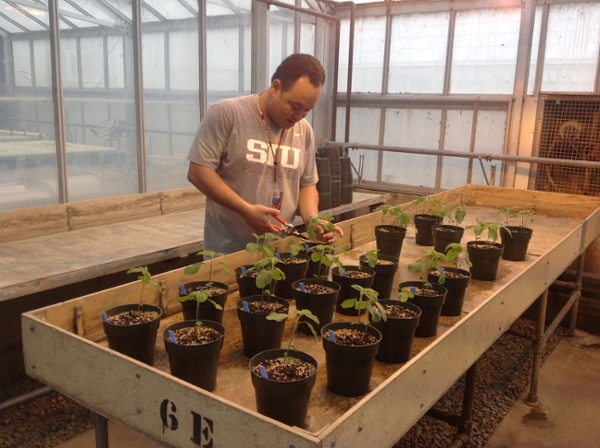 Southern Illinois University Carbondale's Soybean Breeding and Genetics Program has produced several new, high-yield, disease-resistant soybean lines in recent years.
---
02/02/2015
Student Looks to Raise Soybean Quality for Fuel
James Anderson came to Southern Illinois University Carbondale from Fort Polk, La. because of Ag Industry Day. That was two degrees ago. He's a doctoral student here now and a research assistant.
---
01/30/2015
Student to Meet With Nation's Ag Industry Leaders
Emily Loehmer, a Southern Illinois University Carbondale graduate student, wants to make an impact in public health nutrition. She'll have the chance to meet policy makers and experts in that area at the U.S. Department of Agriculture's Agricultural Outlook Forum next month as a participant in the Student Diversity Program, a section of the forum.
---
01/08/2015
New Facilities by Andrea Hahn
When your lab class is in a barn, field or a greenhouse, it makes sense that your classroom is there too. SIU recently added a new classroom at the Agronomy Research Center.
---
Student Research News - 2014
---
07/23/2014
Student Spotlight - Austin Little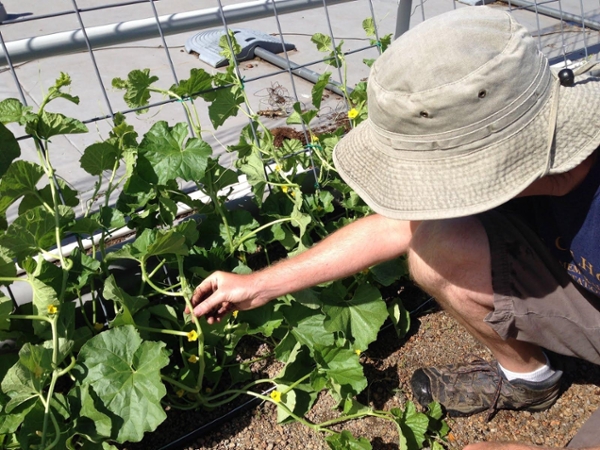 Austin Little, crop production researcher, examines the efficacy of fertilizer treatments to produce the sweeter melons and peppers on a green roof.
---
04/30/2014
"Research Rookies" Opportunity Gives Aggies Hands-On Experience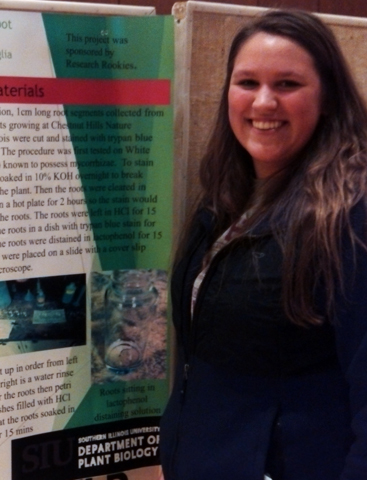 SIU Agriculture students gain hands on experience and work closely with university faculty through the Saluki Research Rookies Program.
---
Student Research News - 2013
---
12/10/2013
Student Spotlight - Hunter Adams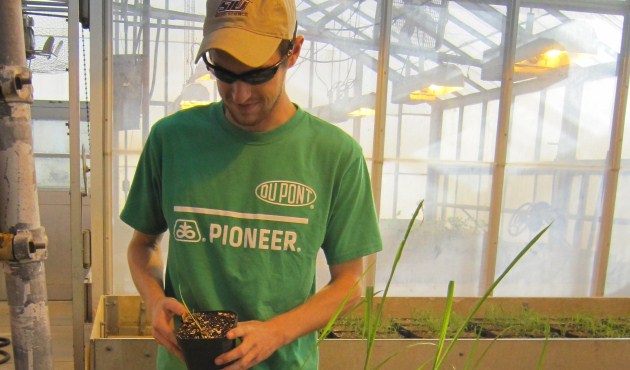 Hunter Adams is a Herbicide Resistant Weed Investigator. His work involves processing seed, propagating plants and evaluating herbicide efficacy.
---
11/25/2013
Student Spotlight - Amanda Weidhuner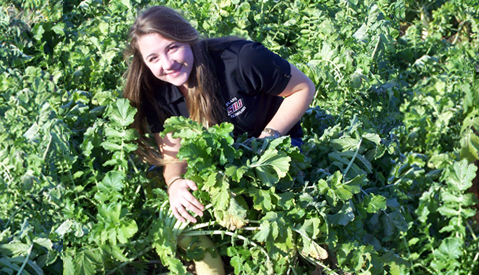 As a REACH Award recipient, Amanda Weidhuner is working on a research project on plant production. She is investigating cover crops and their impact on spring broccoli.
---
05/14/2013
Student Spotlight - Nick Frederking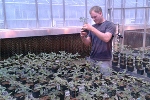 As an undergraduate, Nick Frederking worked as a herbicide-resistant weed investigator. He performed data collection, plant propagation and evaluated plant/seed samples.
---
05/07/2013
Student Spotlight - Joseph Huebener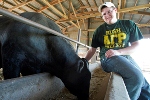 Joseph Huebener recently completed an Undergraduate Research Assistantship at the Beef Evaluation Station. Huebener cared for 52 bulls by assisting with data collection, animal care, and feeding.
---
05/07/2013
Student Spotlight - Amelia Stratman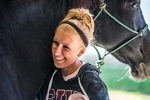 Amelia Stratman's love for horses and aspirations of being a veterinarian led her to enroll in the Equine Science program. Her job at the Equine Center enables her to assist with sonograms, breeding and foal care.
---
04/22/2013
Excellence in Undergraduate Research


Julie Schroeter has demonstrated excellence in her undergraduate research. She will begin working on her Master's of Science degree this fall in Dr. Small's Fish Physiology Lab.
---
01/18/2013
Council Accepting 'Green' Project Applications by Christi Mathis
The SIU Sustainability Council is accepting applications for a new funding cycle for "green" projects on campus. The application deadline is March 22, with the announcement of winning projects set for Earth Day, April 22.
---
Student Research News - 2011
---
04/25/2011
Student Wins Award For Research


Forestry student, Margaret M. Anderson from Indianapolis, received a research award at the 2011 Undergraduate Research Forum. Anderson was the recipient of the "People's Choice Award" for her research project entitled, "Growth Response of Mature Oaks Following TSI and Prescribed Burning Treatments."
---
Student Research News - 2010
---
12/01/2010
Would You Like Calcium And Kelp With Your "Cookies?"


Plant propagators have been producing new plants using manmade seeds for years. Laurie George, a doctoral student in Plant and Soil Science, has developed a new process that can yield nearly five times as many plants as the artificial seeds do. Using a mixture of kelp, calcium chloride and tissue culture, George has a developed a "cookie" which is chemically similar to natural seed coverings.
---
10/27/2010
Swamp Rabbit Decline Is Slowing


Chances are that many of us have never seen a swamp rabbit. The swamp rabbit is a larger, darker-colored cousin to the cottontail rabbit. They like to hang out near wetlands with scenery that includes an abundance of irregular patches of shrubbery with brushy edges and stumps.
---
03/05/2010
Student Assists With Energy Research Project


Kristen Woods, a senior in Agribusiness Economics is spending her time assisting Dr. Silvia Secchi with research into public sector initiatives aimed at fostering production of a variety of renewable energy sources. Woods' work focuses on identifying federal and state efforts that assist alternative energy producers, and how those efforts have changed energy production.
---
02/11/2010
Student Studying Effects Of Herbal Remedy On Fungal Toxin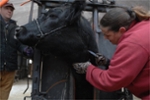 Jamie M. Douglas, a graduate student in Animal Science, is working in conjunction with Dr. Karen Jones to study a potential herbal remedy for fescue toxicosis. Douglas is studying the effects that blessed thistle extract has on fungal toxin.
---
Student Research News - 2009
---
07/17/2009
Go Worms Go!


Can worms compete with giant chemical companies in the production of quality fertilizer compost?
---
Student Research News - 2008
---
07/23/2008
Study Determines Added Bacteria Has Negative Impact On Obesity


Could diets supplemented with "helpful" bacterias improve the health benefits of soy?
---
07/23/2008
Research May Help Save Kankakee Sands Savanna


Dr. John W. Groninger, Department of Forestry Professor, led the research at Kankakee Sands a Nature Conservancy preserve straddling the Illinois state line near Kankakee.
---
07/07/2008
Forestry Students Win Student Presenter Competition


For two straight years, SIUC forestry students have earned top honors at the annual Student Presentation Competition at the American Water Resources Association [AWRA] Conference.
---
05/20/2008
Student Project Discovers Contamination Potential For Autumn Olive


Senior Forestry Student, Andrew Somor, completed a study on the water quality impacts of autumn olive.
---
05/14/2008
Students Create High-Tech "Podcasts" For National Wildlife Refuge
While walking through a national park, ever wanted to ask a question about some of the things you see?
---
05/02/2008
Animal Science Student Wins International Competition
Jamie Douglas, an SIUC senior in Animal Science, was recently awarded a $1,000 scholarship from Alltech, a global corporation specializing in animal and human nutrition. Douglas was one of 700 entrants from approximately 80 universities around the world competing for the scholarship.
---
Student Research News - 2007
---
07/02/2007
Student Receives National Honor For Research


Crystal Doll Welsh, a master's student in animal science, took second place at the Equine Science Society's national graduate competition for research in reproductive physiology in Hunt Valley, Maryland on June 8, 2007.
---
05/09/2007
Study Discovers Benefits of Vermicompost


Undergraduate student, April Vigardt, completed a 12-week study of the impact of vermicompost used as a greenhouse medium when growing broccoli starts.
---
05/04/2007
Undergraduate Students Win Funding For Research Projects
Four students from the College of Agricultural Sciences received funding to complete research during the upcoming 2007-2008 academic year. The students are part of the 2007 REACH [Research Enriched Academic Challenge] Awards Competition.
---
05/01/2007
Undergraduate Researchers Win Awards
David Dalzotto, a senior in forest hydrology from the College of Agricultural Sciences, took second place in the poster competition.
---
Student Research News - 2006
---
12/12/2006
Professor Works With Doctoral Student To Create Computer-Aided Modeling Program


Dr. Luba Kurkalova (Assistant Professor) is working with Mark E. Carlos (doctoral student, ERP) to create a computer-aided modeling program to provide analysis of the relationships between economics factors and environmental results.
---
10/31/2006
Students Assess Best Ground Cover For Campus


Did you ever wonder which is the better and cheaper ground cover? Zoysia or fescue?
---