"Research Rookies" Opportunity Gives Aggies Hands-On Experience
April 30, 2014
The Saluki Research Rookies Program (SRRP) is a recently developed initiative at Southern Illinois University. According to the mission statement, the purpose of the program is to "Engage freshman and sophomores in faculty-mentored, hands-on research and/or creative activities." Students from across campus are taking advantage of SRRP including those within the College of Agricultural Sciences. This year, three individuals from our college have participated in the program:  Gabrielle Fry, Victoria Braner and Ashley Bergman.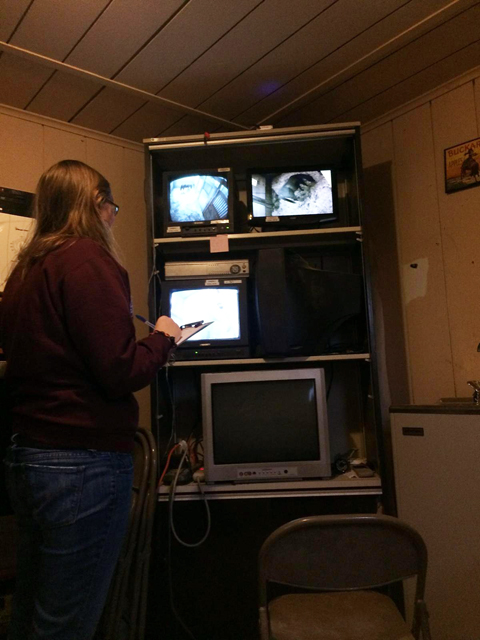 Gabrielle Fry, of Lindenhurst, is currently a sophomore studying animal science. Gabrielle's research entailed a behavioral study of horses on paper-based bedding. She observed three mares in stalls with different ratios of sawdust and shredded paper over a set time frame. Specific behaviors were then recorded. Although she has yet to analyze all of the results, she looks forward to seeing what the data tells her. She theorizes, "Using recycled paper for stall bedding is environmentally friendly and provides a healthier environment to both the horse and its owner." Gabrielle worked closely with her advisor Dr. Karen Jones and staff at the University Farms Equine Center.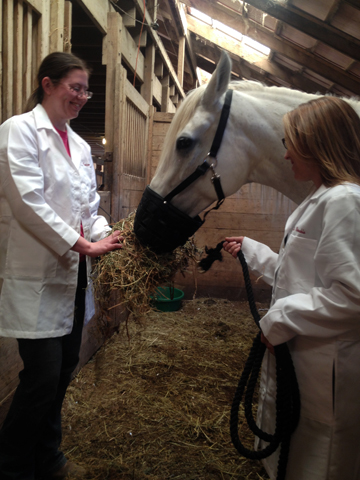 Victoria Braner, of Mildstadt, is currently a freshman studying animal science. Victoria's project measured how quickly horses consumed hay while wearing a grazing muzzle. Grazing muzzles are used to help restrict a horse's consumption while they are at pasture. Victoria wished to explore whether or not the muzzles affected the rate of hay consumption as well. If hay is consumed too quickly by a horse, it can lead to blockages in the esophagus. She tested horses without a muzzle and two different muzzle designs. Victoria's results showed a significant difference in the rate of consumption between test subjects. Victoria's advisor, Dr. Erin Perry, said, "We are looking forward to taking her results and examining them in a follow-up study using pelleted horse feed this summer." Victoria's project took place at the University Farms.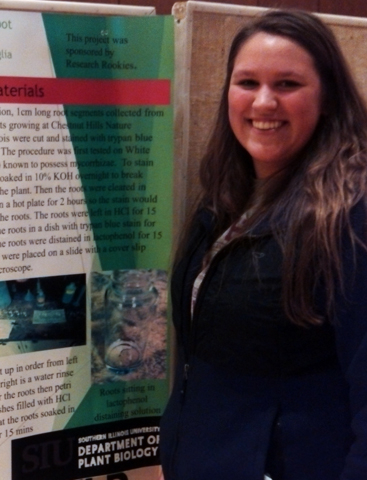 Ashley Bergman, of Edwardsville, is currently a freshman studying forestry. Her project determined the presence of mycorrhiza fungus in the roots of Japanese chaff flowers, a newly invasive species in the United States. This fungus is found in most plant cells and helps bring in phosphorus. Through her research, Ashley found that mycorrhiza is indeed found in the roots either in strands or bundles. This information can be used to help control this invasive species. Ashley said of her involvement in SRRP, "I loved the experience that I got from this project and I learned so much about the research process." Ashley worked closely with the College of Science's Department of Plant Biology and her advisor Dr. David Gibson. She also used the laboratory facilities of Dr. Stephen Ebbs and Karen Renzaglia.
Great job to all SRRP participants! Research is a crucial part of our students' experience here at the College of Agricultural Sciences, and this is one of many ways that we provide them with the hands-on-learning that sets Saluki Aggies apart!
By Jim Tobin, Student
SIU College of Agricultural Sciences