Faculty and Student Research Leads to New Soybean Lines
April 27, 2015, Andrea Hahn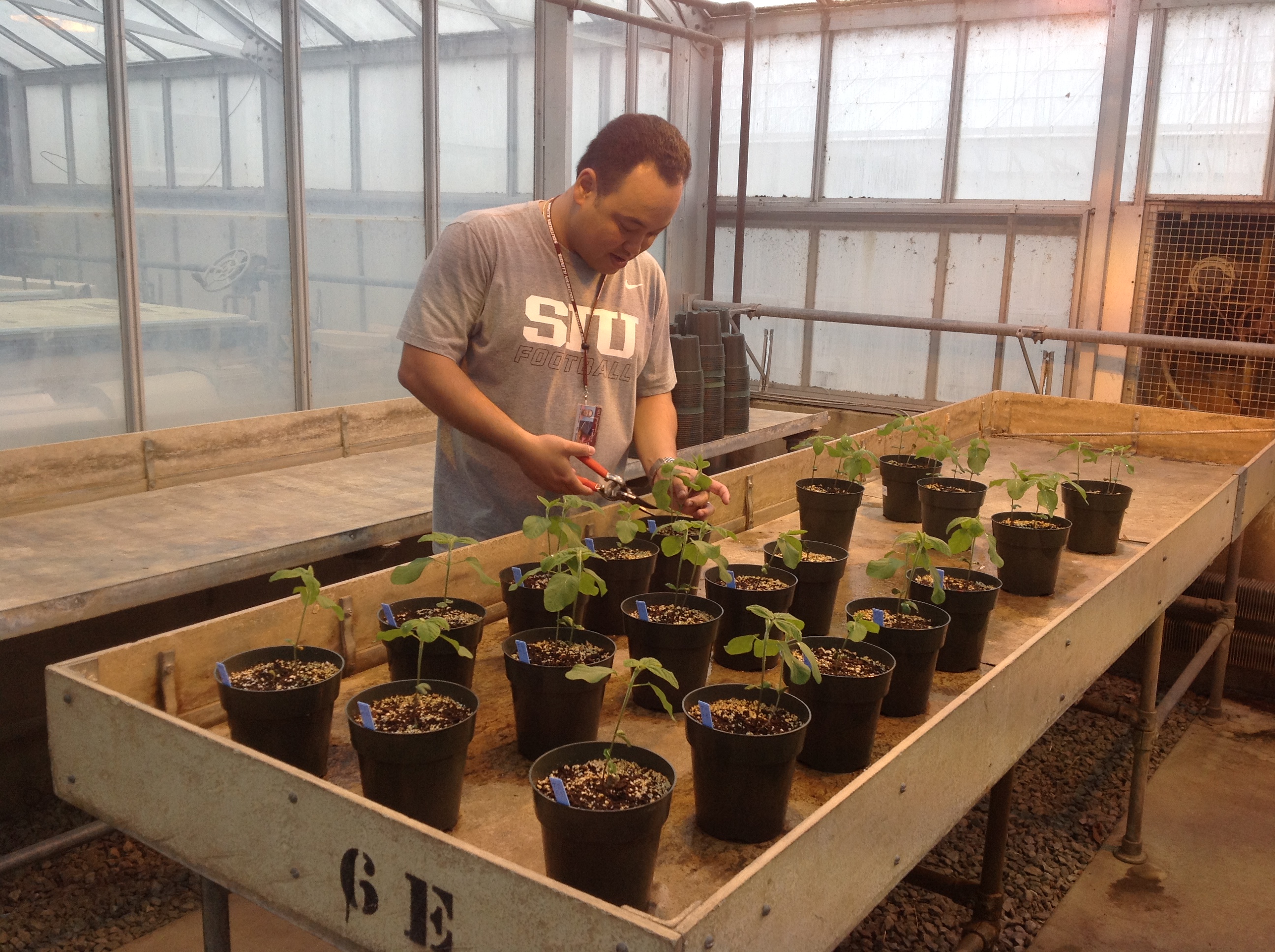 Southern Illinois University Carbondale's Soybean Breeding and Genetics Program has produced several new, high-yield, disease-resistant soybean lines in recent years.
That, and Illinois' worldwide reputation as a major soybean producer, attracted doctoral student Raphael Hamawaki to come to SIU from Uberlândia, Brazil.
SIU's three most recent soybean germplasm lines, SIU4915A, SIU4915B and SIU4915C, are keeping up the SIU standard of disease-resistance and high-yield. The SIU Soybean Breeding and Genetics Program, under the guidance of Stella K. Kantartzi, associate professor of plant, soil and agricultural systems, conducted yield trials on the three new lines in 2009 and in 2010 in three distinct Southern Illinois locations: Carbondale, Dowell and Belleville.
All three lines proved to combine a high crop yield with disease resistance to three devastating diseases: sudden death syndrome, frogeye leaf spot and soybean cyst nematodes. SIU soybean lines are conventionally-bred lines, not genetically modified organisms. Germplasm refers to living genetic resources, such as soybean seeds, used for research.
Hamawaki has played a role in this research, including planting, breeding, testing and preparing for release to the public.
"It takes about seven to 10 years of researching and testing to develop a new soybean line," he said. That means that while he's involved in various stages of soybean germplasm line testing, he won't necessarily see one line from its earliest stages until it is declared ready for the public.  That's ok, he said, he knows growing things takes time and researchers learn early to develop patience.
SIU will make these three lines available to the public, which means they are available for use in public breeding programs. Kantartzi said a germplasm line represents a strong start for a new variety, and means the soybean is at a particular stage of development on the way to becoming a variety. It also means other programs may try to improve on the SIU germplasm.
"What we are saying by making the germplasm line public is that we've developed a really valuable genetic background for a new variety, and that there may yet be room for more research and more improvements," Kantartzi said. "It's all research and development for us."
Hamawaki is at SIU through Brazil's Science Without Borders program by CAPES Foundation, a scholarship program designed to foster an exchange of ideas at the highest levels of education, and to develop leadership skills with an international sensibility in young intellectuals.
Hamawaki had been involved in a soybean breeding program in Brazil as a graduate student at the Federal University of Uberlândia.
"I knew SIU was a good option for me, I wanted to work with Dr. Kantartzi," he said.
"My students are involved in every step of germplasm line research," Kantartzi said. "I want them to know all the steps – not just have one small section of the research. I want them to see the whole picture, I believe that's the way a research program should be."
There are plenty of opportunities for students to get involved in every aspect of soybean germplasm research.
"The breeding program is a cycle – it never really stops," Kantartzi said.
Hamawaki will be at SIU through 2017 or 2018, and will continue to be involved in the soybean breeding program.