Students Trade in the Beach for Gardens for Alternative Spring Break
April 23, 2014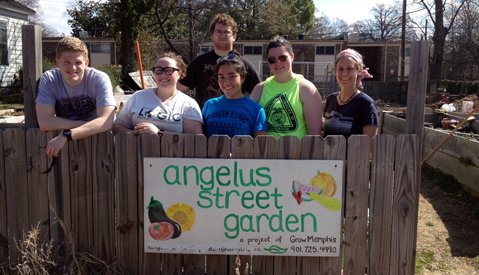 Spring break is a time when students take advantage of time off from school to relax back home or travel to the beach with the rest of the college crowd, but some students used this opportunity to help people in need.  "The Alternative Spring Break (ASB) serves as an alternative to the stereotypical spring break. The student led program provides a fun, educational, and life altering opportunity for participants to bond over providing much needed community service."
Groups of students from SIU and other universities traveled to various cities throughout the southern states such as Nashville, Dallas, Atlanta, New Orleans, and Memphis to volunteer time to those in need. Each destination was assigned an area of community service. The Nashville group dedicated their time to help the animals in shelters and zoos. Groups in New Orleans and Dallas helped the hungry and homeless in soup kitchens and shelters. The Atlanta group spent time with children organizations, like the Boys and Girls Club. Lastly, the Memphis group helped establish and improve community and home gardens. The students averaged between 25 and 30 hours of volunteer hours throughout the week!
Stacy Bare, a senior studying General Agriculture, volunteered her time in Memphis.  "I actually liked having such a small group. It was like a close-knit family. We really bonded over the trip and became really great friends," says Stacy.  During the week spent in Memphis, students performed various tasks for community and home gardeners; pulling weeds, picking up trash, clearing brush, digging and setting concrete for fence posts, building and repairing raised beds, and working with compost piles. They strongly connected to the people they were helping and learned more about organic gardening.  Site leader and grad student, Dania Laubach, says, "If it wasn't for this program, we probably wouldn't have all met each other. We are all from different colleges; architecture, ag, engineering.  The chances of us meeting and forming these friendships on campus are slim."
ASB is a great way to meet new people, travel to new places, and contribute to the common good.
By Kelsey Fritsche, Student
SIU College of Agricultural Sciences