SIU Alumna Leads Weed Science Program
October 29, 2015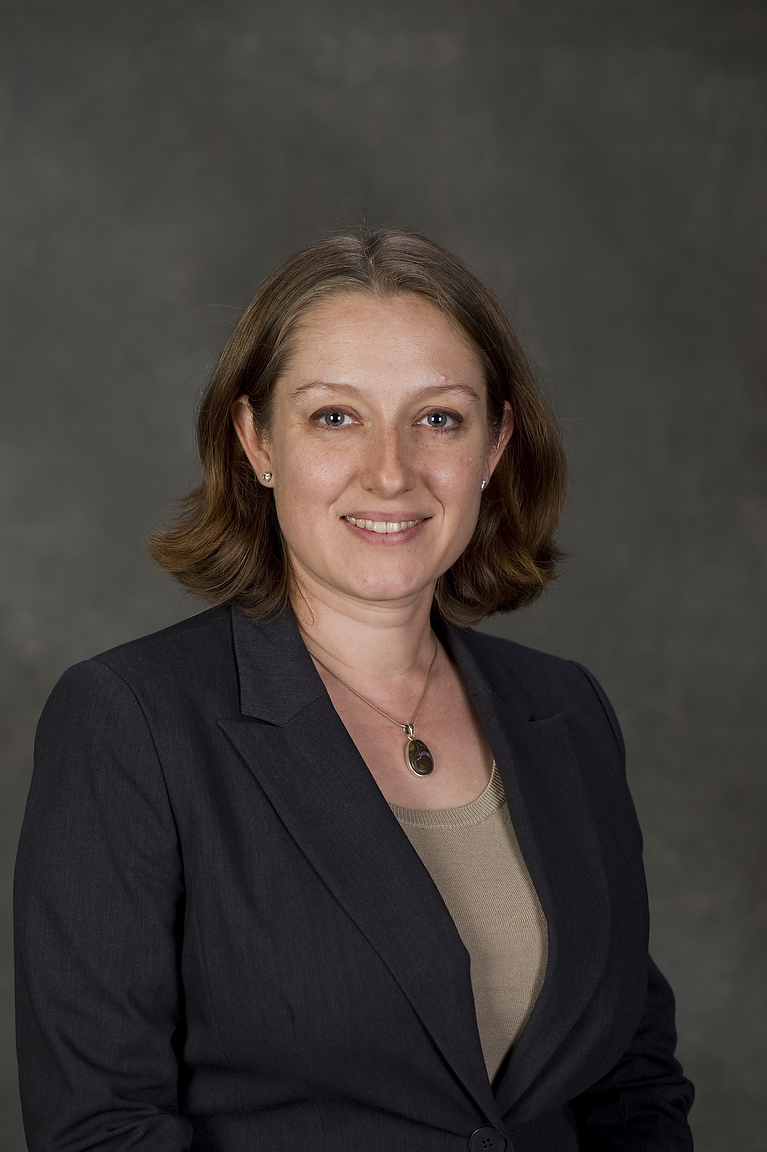 An alumna returns to Southern Illinois University Carbondale to head up the weed science program in the College of Agricultural Sciences.
Karla Gage, who earned her doctoral degree in plant biology at SIU in 2013, accepted a cross-appointment as assistant professor of weed science in the agricultural sciences college and in plant biology in the College of Science beginning this fall.
"There's been a lot of interest in seeing this position filled," Karen Jones, chair of the Department of Plant, Soil and Agricultural Systems, said. "We're happy to have Karla Gage on board."
The weed science position at SIU provides valuable information to the public, particularly farmers, about weed control. Gage is developing a research program to study herbicide resistance weeds, such as Palmer amaranth, as well as weed management in new herbicide tolerant crops. Gage will be part of preparing the SIU weed control annual reports, publications available online that provide detailed information about the Weed Science lab's research on weed control.
Gage described her expertise as "weed ecology." She's interested in the life cycle of weeds – where do they thrive, how do they adapt, how do they cause harm? And she's interested in using this information to discourage weeds from evolving into ecosystem-threatening organisms.
And what's a weed? Gage pointed out that weeds are defined somewhat by the eye of the beholder. For example, the child who brings its mother a bouquet of dandelions is bringing pretty flowers, not lawn weeds. However, as it's been said, a rose is a weed if it's growing in a corn field. In other words, plants growing, particularly those that are thriving and spreading, where they are not wanted are weeds.
Gage has a background in the control of invasive plants. "By my definition," she said, "all invasive plants are weeds." Invasive plants are non-native plants likely to cause economic or environmental harm or harm to human health. They typically have a high ability to adapt and thrive so well they can drive native species to extinction, thus reducing biodiversity and altering habitats.
At SIU, Gage will conduct her own research and also mentor graduate and undergraduate students. She knows the value of hands-on learning and early engagement in research from her own experience as a student. She began her college career at the University of Memphis as a psychology major. She was taking a biology class as part of her general education requirements when a professor spotted her potential and recruited her for a research project surveying plants along streams and in wetlands.
Involvement in this research project persuaded her to change majors. Gage became fascinated by the way that plants respond to their environment, especially weedy plants. "Weeds are amazing plants," she said. "They can adapt over time to many of the ways we try to manage them. One aspect of weed science is the study of how to keep weeds from adapting."
She has a student in the field already at Crab Orchard National Wildlife Refuge. She and her student researchers will work with the U. S. Fish and Wildlife Service and the Natural Resources Conservation Service, an arm of the U.S. Department of Agriculture, to investigate weed suppressing, pollinator-friendly, flowering cover crops to use on the 4,500 acres of crop land in the refuge. The study will include cost effectiveness and cover crop control.
Prior to her return to SIU, she was the project coordinator of the River to River Cooperative Weed Management Area (CWMA), and the author of the informational publication "Management of Invasive Plants in Southern Illinois." She has also published scholarly articles in "Pest Management Science," "Weed Science," "Applied Vegetation Science" and forthcoming in "Ecology and Evolution." She has earned several grants in recent years, including this year, from the U.S. Forest Service, the Illinois Forestry Development Council and the Illinois Department of Natural Resources.