Student Spotlight - Austin Little
Planting, weeding, watering, and fertilizing are just a few of Austin Little's duties as a green roof food production researcher. Under the guidance of Karen Midden and Dr. Alan Walters, Austin examines which fertilizer treatment (Organic Miracle Gro, Bone Meal, Blood Meal, Bone & Blood Meal, Osmocote, 13-13-13) produces the sweetest Charentais melons and Sweet Hungarian peppers.
The study investigates how these plants produce sugars and integrated into the fruit. "That's why these plants were chosen for the green roof environment. Their adaptability to a semi-arid Mediterranean environment makes them a good match for this type of setting."
Austin, a transfer student from Quincy, became interested in green roof food production during his undergraduate degree in the Plant, Soil, and Agricultural Systems Department. Currently a Masters graduate student, Austin said his biggest challenge is deterring small furry animals who demonstrate an appreciation for his hard work.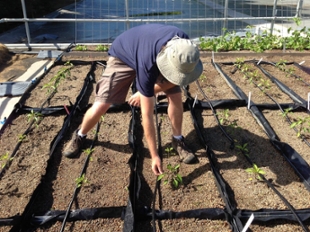 Austin Little, Masters student in Plant, Soil, and Agricultural Systems, checking Sweet Hungarian peppers for potential pests on the green roof.