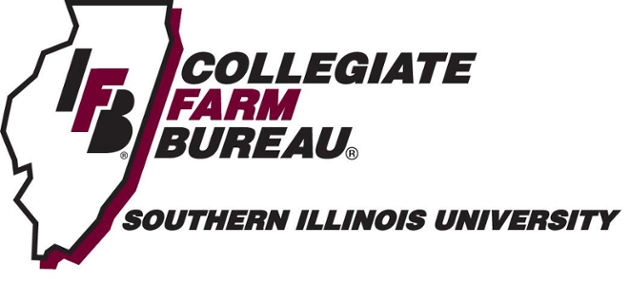 SIU Collegiate Farm Bureau
Club Overview:
SIU Collegiate Farm Bureau gives members the opportunity to be active Farm Bureau members at the collegiate level. Students receive hands on experiences and have the opportunity to meet with potential employers, Illinois Farm Bureau Leaders, and educate SIU about the mission of agriculture!
Club Officers:
President-

 Tori Brokering

Vice President-

 Erik Halberg

Treasurer-

 Julie Wente

Secretary-

 Allyson 

Lintker

Public Relations Executive-

 Cody Suddeth

Member Services and Programming Coordinator-

 Jason Weller

Governmental Affairs Representatives-

 Darrin Reinhardt

Ag Ed and Literacy Representative-

 Gabriel Wrye
Club Advisor:
Fall Meeting Dates:
January 25th, 5:30 PM
February 15th, 5:30 PM
March 22nd, 5:30 PM
April 19th, 5:30 PM
Events and Activities:
Monthly Meetings featuring an Illinois Farm Bureau Representative and an industry representative.
Educating the SIUC students through campus wide events.
Industry tours and guest speakers to help members network.
Illinois Farm Bureau Conferences and Conventions (IFB Annual Meeting, Young Leaders Conference, Governmental Affairs Leadership Conferences, and many more!)
Compete in the Collegiate Discussion Meet!
Check us out on Facebook:
Southern Illinois University Collegiate Farm Bureau
Contact Us:
If you would like additional information about SIU Collegiate Farm Bureau, please contact: Mr. Connor Klingele (clklingele@siu.edu)