John Groninger, Ph.D.
Acting Associate Dean, Professor, Forestry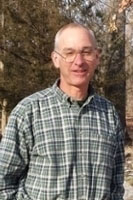 Office Phone: 618 | 453-7462
E-Mail: groninge@siu.edu
Building Location: Agriculture Building, Room 194-E
My students and I evaluate silvicultural and agroforestry approaches to achieving a variety of interrelated objectives, including watershed stabilization, fuelwood/biomass, timber, wildlife, recreation, and biodiversity ranging from rural to urbanized landscapes. Specific projects addressed challenges relating to the management of afforested bottomland and intact oak ecosystems. I also remain engaged in using agriculture and natural resources management to support security in unstable regions of the world.
Special Interests
Bottomland hardwood forests, afforestation and reforestation, oak ecosystem management, improving productivity of hardwood plantations, mixed forest stand dynamics, vegetation management, temperate agroforestry systems, restoration of highly disturbed lands, management options for sustainable landscapes, urban forestry for small communities, international agriculture and watershed development, civilian-military partnerships
Classes
FOR 310 - Practices of Silviculture
FOR 310C - Forest Resources Summer Camp
FOR 403 - Agroforestry
FOR 428 - Urban Forestry
FOR 510 - Advanced Silviculture and Landscape Rehabilitation
Education
Ph.D. Virginia Tech
M.S. Penn State
B.S. Yale
Recent Publications
Rathfon, R., J. Groninger, D. Jacobs, P. Angel, and C. Zipper. 2015. Tree and shrub species selection for mine reclamation in the Midwestern USA. U.S. Office of Surface Mining. Forest Reclamation Advisory #13
Groninger, J.W. and C.M. Ruffner. 2014. Learning rural engagement: Afghan agriculture and the future of rural stabilization. 

Small Wars Journal

10(3): March 13.
Considine, C.D., J.W. Groninger, C.M. Ruffner, M.D. Therrell, and S.G. Baer. 2013. Black oak sand savanna stand structure as related to fire history. 

Natural Areas Journal

 33(1):10-20.
Groninger, J.W. 2012. Reforestation strategies amid social instability: Lessons from Afghanistan. 

Environmental Management

49(4):833-845.
Groninger, J.W. and R. J. Lasko. 2011. Water for agriculture: Challenges and opportunities in a war zone.

Water International

36:693-707.