Meet the College of Agricultural Sciences Academic Advisors
April 22, 2016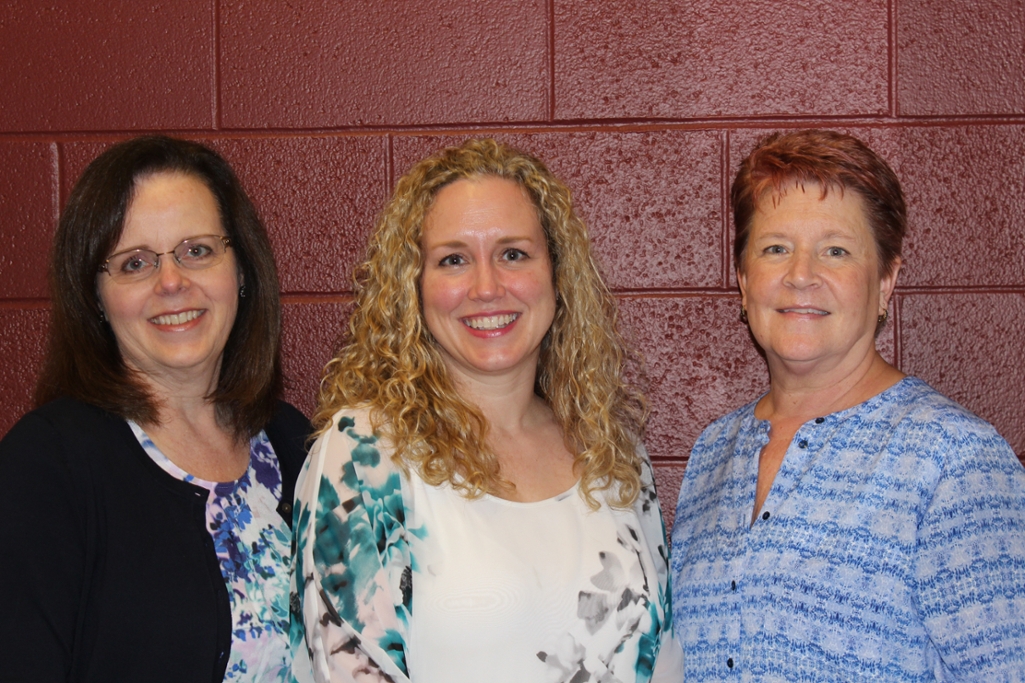 They can make the difference between graduating on time and taking an extra semester, they can help students narrow focus to a major that suits them best or they can help students see the bigger picture and discover a career goal they never knew they had. They are the academic advisers for the College of Agricultural Science.
The current team is Charlotte Sarao, assistant dean as well as chief academic adviser; Kathy Elson and Kim Taylor. All together they have more than 40 years of experience helping students find the best way to make their way through higher education and onto a career path. Naturally that means they have to be up to date on the details: class prerequisites, course name changes, projected changes for degree requirements, new opportunities that come with new faculty, research and scholarship and internship opportunities. But the resource they all agree is the most important – people.
"The college is full of people who care," Sarao said. "It's a great working environment as well as a great home for our students and their families."
"The people make it great – the faculty, the staff, the students!" Taylor enthusiastically agreed, and Elson said one of the best parts of her job and SIU is the "good people you get to know, and the diverse campus that for the most part lives peacefully together."
Sometimes the advice these advisers give is specific: "You need this course and then this one," for example. But they've seen students succeed and they know what works. Their advice for a successful college career focuses on a couple main ideas – find something you want to do, and actively do it.
"Students should choose something they love and can be passionate about," Taylor said. "Also – get involved. Employers like to hire well-rounded students. Think about your resume from the moment you start college."
"Take classes you are interested in, no matter what," Elson said. "Don't try just to get by and take only 'easy' classes. Get involved, that's how you'll find your passion. Join a club or a Registered Student Organization, get involved with research, get to know your professors, volunteer, become an Agbassador."
Sarao, originally from Massachusetts, lives between Carbondale and Carterville with her husband Robert. She first set foot on campus in 1977 as a freshman French and international business major. She earned her bachelor's degree in French and earned another in business administration, and then an MBA here. Though she worked on campus since 1989, she joined the College of Agricultural Sciences in 1997 as chief academic adviser. She later took over many of the duties associated with a position that the college eliminated, and took on the title of assistant dean.
"My job satisfaction comes from tackling academic problems that students may face and finding solutions that make everyone happy and result in a degree in hand," she said. In fact, she named May and December commencements as among her favorite days of the year – right up there with a day spent poolside, antiquing or gardening.
Fun facts:
Sarao and her husband share their home with three cats, black cat Dominic, gray cat Toni and tiger-striped cat Tomiko, rescues all. A pair of snails hang out inside, too.
She grew up with the name Charlotte Webb. She was not named after the famous book.
Taylor is from Ava and lives in Murphysboro now, and she's an SIU alumna with a master's degree in higher education. Though she was valedictorian of her class at Trico High School, she said she had no idea what she wanted to do when she graduated. She had a job in the corporate world, but when the Carbondale office closed, she decided to stay in the area. That's when she went back to school, earned her degree and came to work for SIU. She and her husband Kevin share their home with Brutus, a Yorkshire terrier she described as "spoiled rotten," and their hearts with their daughter Tiffany and granddaughters Taylor and Skylar.
Fun facts:
Taylor is a third generation Saluki. Her grandmother attended SIU Normal School, the name SIU went by in its earliest days, and her father is a College of Agricultural Sciences graduate. The family is keeping it going, too – a nephew is an alum and a niece is a current student.
Elson grew up in Elkville, moved away to Bowling Green, Ky. for 18 years and has been back in Southern Illinois for two years. She's an alumna with a Bachelor of Science degree in food and nutrition. As a student, she worked in the admissions office, and took a job post-graduation in human resources with Marriott Hotels. She worked in admissions and academics and advising at community colleges in Kentucky, so it was natural to come to academic advising at SIU. Her family is at home in higher education. Her husband, David, is the defensive coordinator at Western Illinois University; daughter Lauren is a sophomore chemistry major at Harvard University; daughter Jessica is a high school sophomore active in volleyball and playing viola; and daughter Maggie is just in first grade and she's the life of the party. They also have a cat, Marlene.
Fun facts:
Elson was valedictorian of her class at Elverado High School. Like Taylor, she had no idea what she wanted to do when she graduated.
Her description of a perfect day covers all the bases: she'd sleep in a little bit, and the family would all be home in a miraculously clean house decorated for Christmas even though outside the weather was perfect spring. The family would hang out, grill out and end the evening with a good movie.
"Each student is like a new puzzle that I have to figure out and get all the pieces to fit together," she said. "We have such a variety of personalities – it never gets boring!"