New Agribusiness Economics Faculty Member Eager to Collaborate
October 27, 2015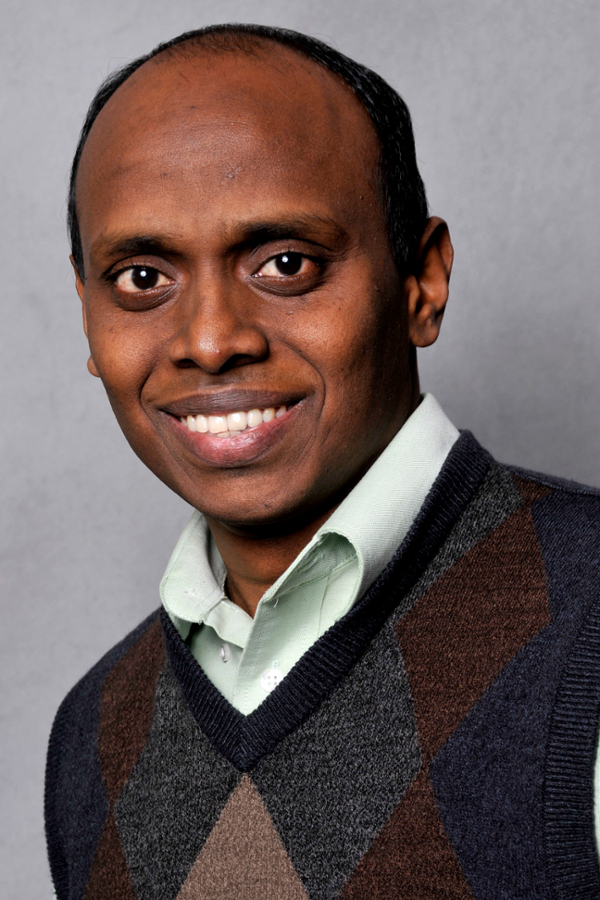 Before he'd even been at Southern Illinois University Carbondale a full month, Jebaraj Asirvatham (call him "Jeb") was already looking to collaborate with his colleagues and get involved with community research.
Joining SIU as an assistant professor of agribusiness economics, Asirvatham has a keen interest in nutrition, particularly as it relates to early childhood obesity. He hopes to work with colleagues in the College of Agricultural Sciences to study the eating habits of area school children.
His focus, coming as he does from an economics background, is consumer economics and how income affects nutrition and health behavior. He wants to work with area schools or programs to find ways to help young children establish healthy eating habits.
"Elementary-school age is such an important phase for children," he said. "It's when they are first building habits."
The idea he wants to test is the notion that social networks and "peer effects" can be useful tools in promoting healthy eating habits. By social networks he doesn't necessarily mean Facebook or SnapChat; he means the social networks young children observe at school – the kids sitting at the same table or playing the same games on the playground.
Asirvatham's previous research in this area, "Peer-Effects in Obesity among Public School Children: A Grade-Level Analysis," appeared last year in the journal "Applied Economic Perspectives and Policy." He presented a similar paper at the 2013 annual meeting of the Agricultural and Applied Economics Association in Washington, D. C.
His research showed that elementary school students with healthy weights tended to increase their BMI if a high percentage of their classmates were overweight. To reach this conclusion, he tracked body mass index scores of public elementary students in Arkansas, where relevant data was available from 2004 to 2010. In classes with a high percentage of students classified as overweight, BMIs of non-overweight students still climbed, even if not to the classification of obesity.
Asirvatham would like to take that peer effect and turn it to the positive. "We know children are susceptible to comments from their friends," Asirvatham said. "A child who eats broccoli might stop if another kid says that's an uncool food. I'd like to see if we can use those social networks to reinforce healthy eating habits."
Asirvatham is also interested in how impulsivity affects eating habits and overall caloric intake. "Self-control isn't about eating broccoli at every meal," he said, noting that there are many factors which lead to impulsivity in eating habits, everything from emotions to sale prices to free samples to available resources. A big sale on a high calorie item might make a consumer buy and subsequently consume more of that item than if there had been no sale, for example.
For Asirvatham, it's all about the underlying factors that drive a person to make choices about what, how much, and when to eat. "I love studying consumer behavior," he said.
Asirvatham comes to SIU from the Tamil Nadu state in India by way of the University of Arkansas. Though his father had grown up on a farm, he was in the Indian Navy when Asirvatham was a boy. That background led him to attend Kerala Agricultural University, where he earned a bachelor's degree in animal science. He decided to pursue a graduate degree in agricultural economics with an emphasis on farm management at Punjab Agricultural University. After graduating, an on his older brother's recommendation, he came to Rutgers University to earn a master's degree in agricultural economics. His doctoral degree is from the University of Illinois. He was instructor of agricultural economics and agribusiness at the University of Arkansas before joining SIU.
"Dr. Asirvatham brings a strong background in agribusiness," Mickey A. Latour, Dean of the College of Agricultural Sciences, said. "He works within areas of high interest broadly within our college, namely nutrition and body mass index (BMI) studies. We expect his expertise to lend itself to collaboration with other faculty members, which will also benefit our students."