Agribusiness Student is Student Employee of the Year
April 20, 2015, Andrea Hahn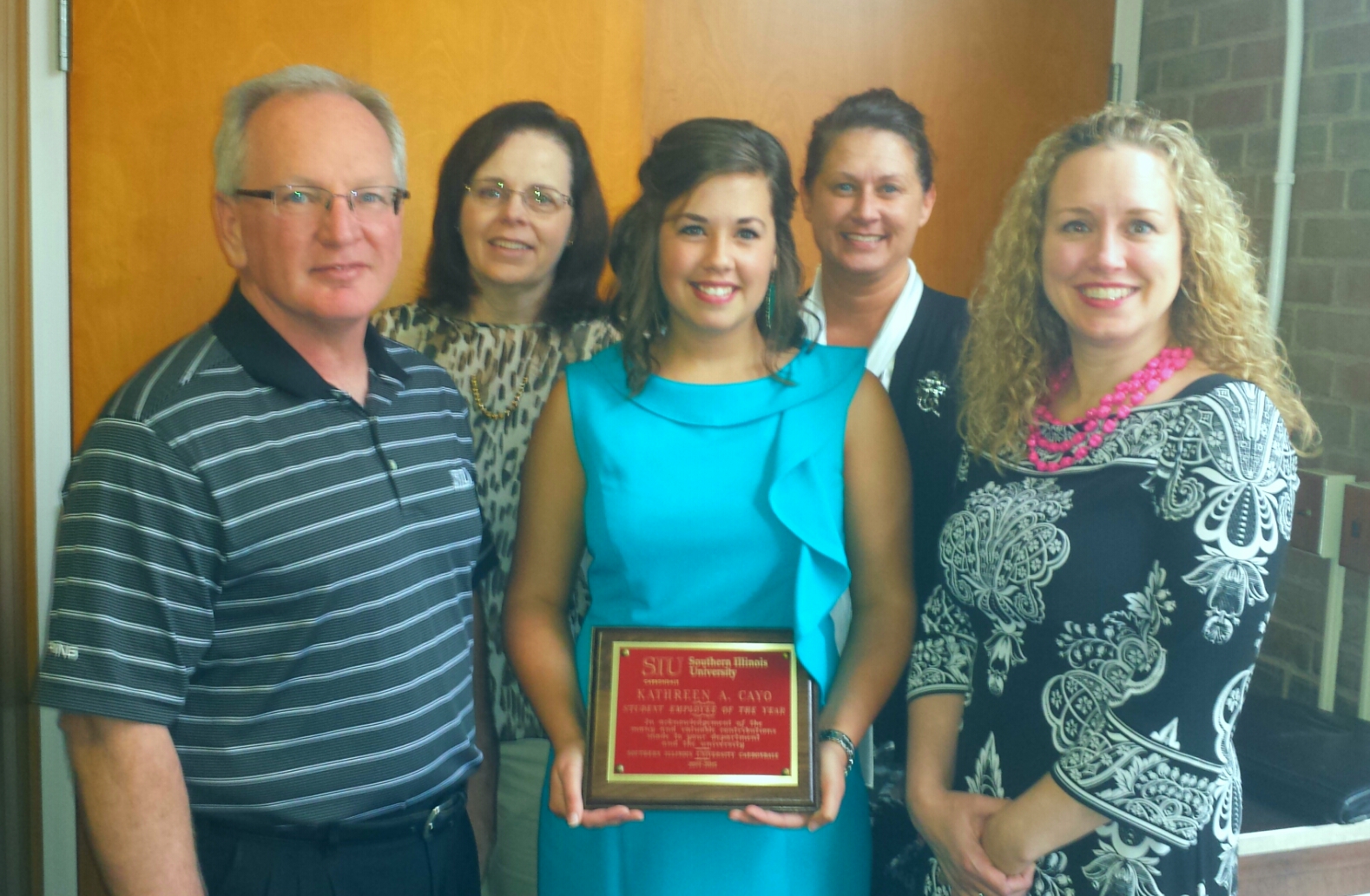 Kathreen "Katie" Cayo, a senior agribusiness economics major from Smithsboro, is the 2015 Student Employee of the Year at SIU.
She received her official recognition at an informal breakfast ceremony on April 16 as part of the university's observance of National Student Employee Recognition Week.
Cayo is a student office assistant for the College of Agricultural Sciences. Susan Graham, business manager and assistant to the dean, said in her nomination letter that Cayo surpasses expectations because she is a natural leader in her academic and collegiate life as well. Her ability to take charge in areas pertaining to her college and her major show up in her work ethic as well.
"She is a vital team player in our recruitment activities, open houses and this year, in planning our week of farm tours at SIU Farms," Graham said. "Katie was quick to volunteer and accept the responsibility of handling the logistics of approximately 1,000 kindergarten through third grade students visiting the farms in April."
Graham praised Cayo for her role as Agbassador, Agribusiness Club treasurer, founding member of the Collegiate Farm Bureau RSO at SIU, and her willingness to accompany the department on recruiting visits.
"I think it would be impossible to identify a student employee more deserving of the honor of the SIU Outstanding Student Employee of the Year than Kathreen Cayo," she said.
For Cayo, an accomplishment of which she is most proud is helping to bring a collegiate chapter of the Illinois Farm Bureau to SIU as an official Registered Student Organization – a two year process.
"The Illinois Farm Bureau (ILFB) is a grassroots organization, really," Cayo said. "The Illinois Farm Bureau keeps its members aware of proposed and pending legislation that affects agriculture, and it provides a forum for farmers and others involved in agriculture to voice their opinions."
Membership also means discounts at businesses that partner with the ILFB – and savvy college students appreciate that, Cayo said.
"Members of the SIU RSO pay their dues to the Illinois Farm Bureau," she said. "Instead of membership through a home county, they are members through SIU."
Cayo was the first president of the SIU chapter of the Illinois Farm Bureau. Other officers include: Mershon Caissie (Paxton), vice president; Lindsay Francis (Greenup), secretary; James Tobin (Farmer City), treasurer; Katelyn Tobin (Farmer City), public relations executive, Alex Russell (Cowden), social events executive. Other founding members include: Freya Block (Neponset); Lane Kreiling (Mason City); Daniel Schmidt (Columbia) and Daniel Suess (Greenville).
And she'll work there when she graduates. The first few weeks will be job training and then she'll have her assignment.
"I've had a great time at SIU," she said. "I wouldn't change anything."
In the photo: Shown are, left to right, College of Agricultural Sciences Dean Mickey A. Latour;  Kim Taylor, academic adviser; Kathreen "Katy" Cayo; Susan Graham, business manager and assistant to the dean; Katherine Elson, academic adviser.