Renovations Made to Quigley Kitchens
May 19, 2014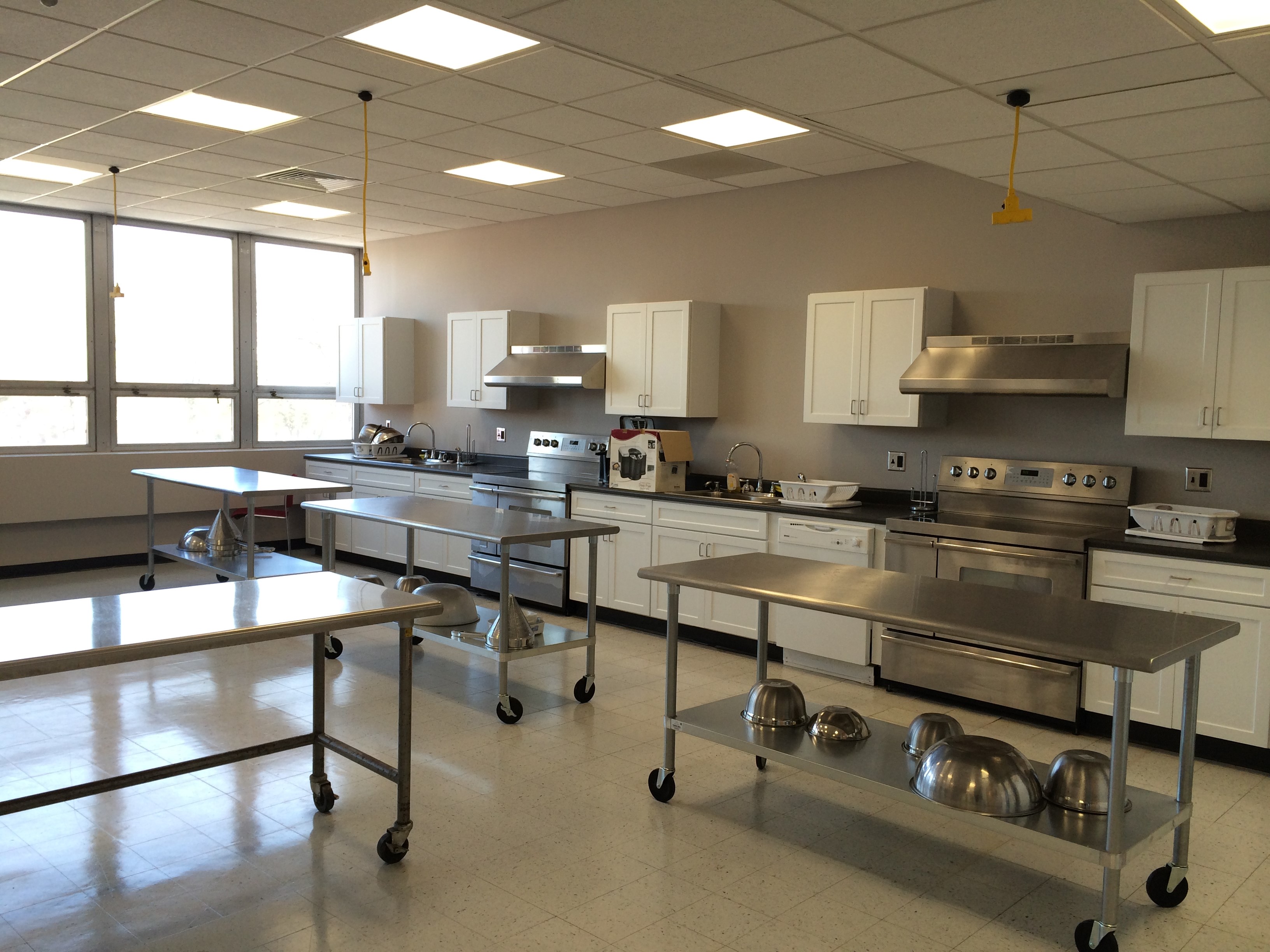 Students of the Food and Nutrition program recently received an opportunity for a better learning experience.  For several years, instructors and program supporters realized two of the kitchen facilities used for classes were no longer providing students with an adequate education.  Dr. Sylvia Smith Thoms, an associate professor within the program, stated, "The atmosphere was no longer conducive to higher levels of student learning." During the Fall 2013 semester, plans for renovating the kitchens started to move forward.
Throughout the process of designing the kitchens, many different plans had been proposed.  A large amount of the equipment for the renovation was funded by a grant specifically intended for food service usage.  Former Chair for the Department of Animal Science, Food and Nutrition, Dr. Trish Welch, had previously received the grant.  However, not all of the funds had been used.  The grant funds were committed to the project, with the remaining funds committed by Plant and Service Operations and the College of Agricultural Sciences.   Plant and Service Operations provided much of the infrastructure and renovation work. 
After roughly a year of planning for the project, renovations began in the Fall 2013 semester on one of the kitchens.  The plan was to renovate one kitchen at a time so that students would still able to utilize the facilities.  The new kitchens include many new appliances.  Stainless steel tables, cupboards, ovens, and refrigerators were all added.  The new kitchens were also designed with ADA (Americans with Disabilities) Facilities.  Low sinks and countertops were installed to be wheelchair accessible.
The goal is to have both the kitchens completely renovated by the start of the Fall 2014 semester.  One of the kitchens is already available for student use.  When students first saw the final product they were thrilled.  Teresa Coleman, a senior in the Human Nutrition and Dietetics program, stated, "The new lab is amazing! I wish I had one at home!"  The renovations have sparked the interest and excitement of many students, not just Coleman.
These labs continue to be primarily used for Food and Nutrition classes and to promote grant related research; however, they are available for public use as well.  There are numerous clubs, professors, and student camps that utilize the facilities in addition to the Food and Nutrition students.
If you would like to see the final product of the kitchen renovations, you are welcome to tour them in Quigley Hall.  The top photo is a picture of the kitchen after the recent renovations, and the bottom photograph is a picture of the facilities as they used to appear.  For additional information or to take a tour of the kitchens, please contact Dr. Sylvia Thoms Smith at ssmith8@siu.edu  or (618) 536-7567.
Mallory Hopkins, Student
SIUC College of Agricultural Sciences