University Farms Hosts 2014 Spring Farms Tours
April 29, 2014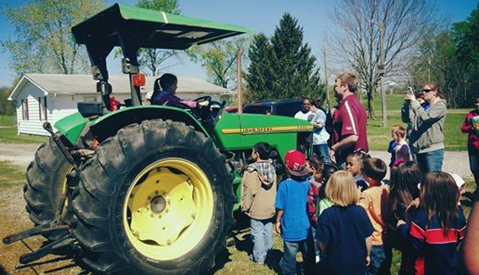 Did you know that an average cow eats approximately 14-15 pounds of feed each day? That is just one of the things that local grade school children learned at University Farms during the annual farm tours at SIUC University Farms. 
During the week of April 21-25, 2014, SIUC University Farms hosted approximately 400 local elementary students for a day on the farms.  Peter Dirks, the newly hired Coordinator of Student Transition and Success at the College of Agricultural Sciences, coordinated the tours with approximately 10 local grade schools.  "It is our job as educators to make sure the next generation understands and realizes how important agriculture is in our daily lives, and it is never too early to start the process," Dirks said.  A fun time was had by all, and the elementary school students enjoyed learning some basics about feeds and feeding, Angus beef, equine, dairy, and equipment/tractor safety. 
Many thanks to all the participating schools, the farm managers for having the livestock and equipment ready to go, and all the student volunteer help!  "We could not have done it without you!" Dirks said.