Busy Foaling Season Leads to Unique Hands-on Learning
April 23, 2014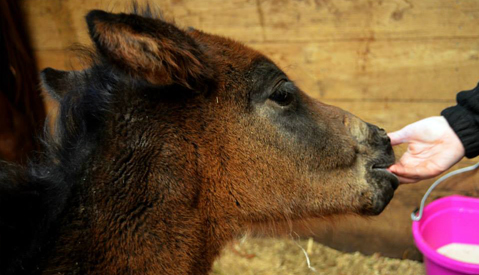 Spring is here and 'tis the season to foal!' The Equine Center has had an eventful foaling season, and it has only just begun!  Within four weeks, three foals were born. A colt named Johnny was the first born on Sunday, February 23, 2014, the day before "foal watch" was to begin. His mother was not showing any signs of labor and not due for another week, but when students came in for morning chores on Monday, they found a new addition to the pasture! Johnny's mother had given birth to a healthy colt all on her own. "I have only missed one other birth in all my time here at SIU, and it was actually by this same mare. She must like her privacy," says equine manager, Sheila Puckett.
The second foal born provided a unique experience for students. Although the filly's birth was no surprise, the relationship between her and her mother was. Once June was born, she was rejected by her mother. This situation is rare and only happens about 2% of the time. Since the mare would not allow June around her, Johnny's mother took her in as her own. Unfortunately, the adoption only lasted about a week until it was recognized that Johnny's mother would only fully care for her own foal. As an orphan, June soon learned to drink milk from a bucket and was later adopted by a riding mare who continues to nurture and protect the filly. "This kind of negative situation is actually a really great thing. Because students were able to participate in these difficulties hands on, they are better prepared for challenges they may face in their future careers as equine managers," explains Equine Director, Dr. Erin Perry.
Memphis was the most recent foal birth, on March 20th. The delivery was healthy and his mother continues to be loving and nurturing.
Venable stated, "It is truly a special program here [at SIU]. Students learn from the experiences that happen here and are able to handle situations on their own with reassurance from the farm staff. If they have questions or need help, they are able to come to me or Sheila, and if need be, we can step in. You can't get that anywhere else."
By Kelsey Fritsche, Student
SIU College of Agricultural Sciences