Fun Had By All at First Annual Fall Festival
November 05, 2013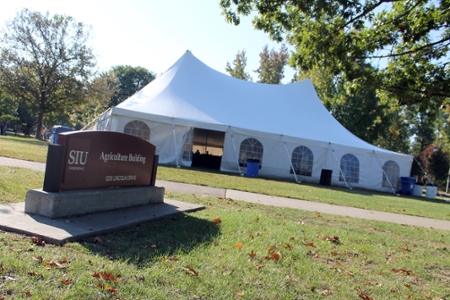 The First Annual Fall Festival brought over 350 participants to the College of Agricultural Sciences.  The event showcased the college's offerings, research, teaching and educational programs. 
Participants were welcomed to the big white tent in front of the Agriculture Building!  Visitors registered to attend several hands-on activities and events throughout the day.   Friends enjoyed a delicious luncheon catered by our very own human nutrition students.  The menu included chicken fajitas, chips and salsa and fruit. 
Sessions included such topics as large carnivores in Illinois, equine nutrition, water quality, sustainable landscaping , environmental management, and turfgrass management.  Visitors participated in hands-on activities and demonstrations such as tree identification, commodities and futures trading, plant biotechnology, and precision agriculture. 
The various Farm Centers welcomed visitors to an open house at University Farms, and tours were given of Steagall Hall, the Living Learning Community for students in the College of Agricultural Sciences.  Prospective students also received information about undergraduate and graduate research projects and opportunities.