Forestry Has First Annual Field Day for High School Students
October 03, 2013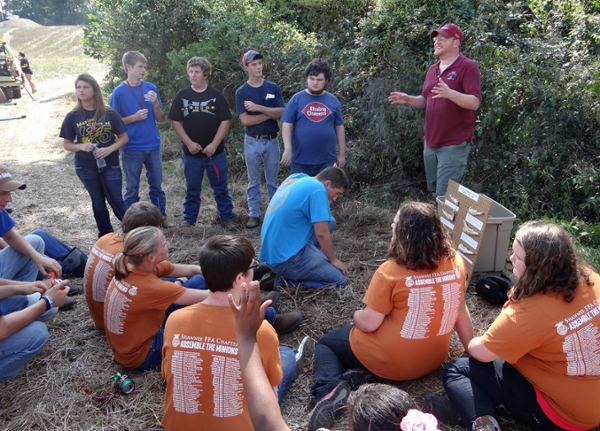 Students from Shawnee High School discuss wildlands firefighting. (Oct. 3, 2013)
The Forestry Department at SIUC hosted its First Annual Forestry Field Day at University Farms on Thursday, October 3, 2013.  Students took a wild life tour on some of the forested lands at University Farms and learned about topics related to forestry such as wildlife photography, deer jawbone dating, wildland firefighting, habitat restoration, and tracking.  Dr. Jim Zaczek, Forestry Department Chair, stated he was happy to see the high school students enjoying the forestry activities.  "We were happy to share our love of forestry with the area students," Zaczek said.  "I think they were pleasantly surprised at the wide variety of opportunities to study and experience forestry and natural resources at SIU."  As the tour concluded, each school in attendance received a Biltmore stick, which is a piece of equipment used to measure trees.
In conjunction for the field day, local high school students participated in a soil science judging competition where getting "dirty" was totally allowed and even encouraged.  Over 100 high school students from approximately 13 schools visited the farms to take part in the FFA sponsored Land Use CDE event.   The visual and "hands-on" competition had students walking into large soil pits to evaluate such things as soil composition, soil type and land slope.  Jeff Robison, Agriculture Teacher at Goreville, worked with SIU faculty to administer the judging and process the scoring.  At the end of the day, Dr. Rachel Cook, soil scientist, stated it was great to see such interest in soils by the high school students.  "I hope programs like this inspire students to come to SIU and continue to study soils," Cook stated.
Both the forestry and soil science programs are looking forward to next year's event.