2011 News
---
December 12, 2011
Davey Tree Scholarship Awarded To Forestry Student Marcus Rutherford - Tim Crosby


Marcus Rutherford, a senior majoring in Forestry, was awarded a $1,000 scholarship from Davey Tree Expert Co. Davey Tree is a national tree, shrub and lawn care company that grants 30 such scholarships every year across the United States. Rutherford, from Chesterfield, IL, can use the funds to pay for tuition and fees or other related costs. The award was presented to Rutherford by Tom Beshoar, a 1998 SIUC forestry graduate.
---
October 21, 2011
Illinois Soybean Association Will Help Build State-Of-The-Art Greenhouse


The Illinois Soybean Association [ISA], has contributed $250,000 toward a state-of-the-art undergraduate teaching and research greenhouse facility. The new facility will span 22,000 square-feet, and will replace a 50 year-old greenhouse currently located behind the Agriculture Building.
---
September 16, 2011
Master's Degree To Be Offered In Hospitality & Tourism For Fall 2011


After a recommendation from business professionals on the College Advisory Board, a new graduate degree program in Hospitality and Tourism Administration was added in the Department of Animal Science, Food & Nutrition.
---
September 06, 2011
AWRA Wins National Honors


The American Water Resources organization recently named the SIUC group as its most "Outstanding Student Chapter" in country. Dr. Karl Williard, Professor of Forestry, said the club's success stems from the energy, enthusiasm, and commitment from club members.
---
September 01, 2011
College Welcomes Students Back For Fall 2011!

The College of Agricultural Sciences is proud to welcome students for Fall 2011! Enrollment is once again up! Our College is rapidly expanding as students learn about the good things we have to offer!
---
August 22, 2011
Two New Tuition Programs Help Students Save


A new tuition program at SIUC helps newly entering students with family ties to SIUC save up to 20% on tuition. The new rate, referred to as the "SIUC Legacy Tuition Rate," will start being applied during the beginning of the Fall 2011 semester. Students who have parents, stepparents, or legal guardians who graduated from SIUC are eligible for the new rate.
---
August 16, 2011
SIUC Earns 2011 Award For Being Military Friendly
Once again, SIUC has earned national recognition for its commitment to providing educational opportunities to active-duty military personnel and veterans. SIUC received recognition in the August 16, 2010 issue of G.I. Jobs Magazine.
---
August 09, 2011
Alumnus Gives Personal Account Of Emergency Response Efforts


SIUC Alumnus, Rob McCaskey, recently visited the campus to give a first-hand account of his service with the United States Army and Coast Guard. McCaskey's presentation, entitled "Rescue Me," provides insights into some of the worst natural disasters to hit the United States.
---
June 29, 2011
$7 Million Grant Fuels Sustainability Research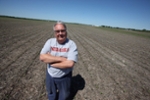 Howard G. Buffett, philanthropist, has funded a $7M grant to fund research on his 2,500 acre farm southwest of Decatur. The team of researchers will conduct experiments in land plots (ranging in size from 8 acres to 40 acres) with a focus on the study of long-term sustainable practices with an eye toward making growers successful, protecting the environment, and feeding the world.
---
June 24, 2011
Dr. Wendell Keepper, Founding Ag College Dean, Fondly Remembered
The College of Agricultural Sciences lost one of its true treasurers in June 2011. Dr. Wendell E. Keepper, the first dean of the College, passed away at his home in Carbondale.
---
May 25, 2011
Forestry Students Provide Hands-On Ecology Lessons For Local Schools


Nearly 200 local grade school and high school students from the Carbondale area spent a day learning about the environment in an outreach project conducted by the Forestry Department. Dr. Erin Seekamp, Asst. Professor of Forestry, coordinated the efforts with graduate and undergraduate students in her "Fundamentals of Environmental Education" class.
---
April 25, 2011
Student Wins Award For Research


Forestry student, Margaret M. Anderson from Indianapolis, received a research award at the 2011 Undergraduate Research Forum. Anderson was the recipient of the "People's Choice Award" for her research project entitled, "Growth Response of Mature Oaks Following TSI and Prescribed Burning Treatments."
---
April 11, 2011
Wildlife Expert Seeks Clues To Tiger Attacks In India


Dr. Clay Nielsen, Assistant Professor with the Cooperative Wildlife Research Laboratory and the Department of Forestry, is assisting wildlife managers in central India as they look for ways to protect local villagers from tiger attacks. Nielson is hoping to use date collected to attempt to predict where and when tiger attacks are most likely to occur.
---
March 29, 2011
Apgar Chairs Animal Science, Food And Nutrition


Dr. Gary A. Apgar was recently promoted to the position of Interim Chair of the Department of Animal Science, Food and Nutrition. Dr. Apgar's specialty is in swine nutrition, with a research program focused on nutrient content in swine diet, immunological activity of feed additives, and investigating enzyme addition in swine diets for growth and performance.
---
February 28, 2011
College Receives Award For Afghanistan Efforts


As part of its ongoing global education efforts, the College of Agricultural Sciences was more than happy to step-up to the plate and partner with the US National Guard to train soldiers involved with an agribusiness development team. Fifteen of the College's faculty helped train 22 soldiers at the SIUC farms in preparation for their deployment to Afghanistan. The objective for the training was for the team to assist with rebuilding the rural and cultural infrastructure in Afghanistan.
---
February 03, 2011
Student Set To Intern With National Geographic


Forestry student, Makayla Trotter, is going to spend part of the Fall 2011 semester as a paid intern for National Geographic. Trotter, a geography and environmental resources major from Macomb, IL is heading to Washington D.C. to complete an internship in the Education Division.
---
January 31, 2011
Researcher Hopes To Boost Chile Economy


A researcher with the Fisheries & Illinois Aquaculture Center is working with researchers from Chile to determine the potential for domesticating a fish breed called the San Pedro for aquaculture.
---
January 24, 2011
Dietetics Program Receives Re-Accreditation


Two programs in the College of Agricultural Sciences recently received re-accreditation from the Commission on Accreditation for Dietetics Education [CADE].
---
January 14, 2011
"Green Partnership


Dr. Amer AbuGhazalah was awarded at $51,000 grant from the University's "Green Fund" to partner with the dining halls on campus in an effort to convert used canola oil to biodiesel and cattle feed.
---