2010 News
---
December 15, 2010
Davey Tree Scholarship Awarded To Forestry Student Jarid Perrin


Jarid Perrin, a junior majoring in Forestry, was awarded Davey Arbor Grant Scholarship. Perrin landed the $1,000 scholarship after completing a summer internship with Davey Tree in the west Chicago area. Davey Tree is a national tree, shrub and lawn care company that grants 30 such scholarships every year across the United States.
---
December 03, 2010
Scholarships To Be Awarded To High-Achieving Freshmen
The SIU Foundation is creating a scholarship fund for high-achieving freshman with the goal of attracting some of the best and brightest incoming students to the University. Scholarships will start being awarded in the Fall 2011 semester.
---
December 01, 2010
Would You Like Calcium And Kelp With Your "Cookies?"


Plant propagators have been producing new plants using manmade seeds for years. Laurie George, a doctoral student in Plant and Soil Science, has developed a new process that can yield nearly five times as many plants as the artificial seeds do. Using a mixture of kelp, calcium chloride and tissue culture, George has a developed a "cookie" which is chemically similar to natural seed coverings.
---
November 23, 2010
Zoysia Grass Is Environmentally Friendly


If you are searching for a grass that could be considered as "environmentally friendly," Dr. Ken Diesburg believes Zoysia grass might be the answer.
---
November 17, 2010
Soybean Breeder Works To Stop Spread Of Soybean Virus


Plant scientists report that a new virus is attacking soybeans in southern states. Dr. Stella Kantartzi, Assistant Professor of Plant and Soil Science, is researching the virus. Plants showing signs of the virus exhibit yellow splotches near the veins on their leaves. As the disease takes firm hold on the plant, the patches grow larger and darker, giving the leaf a scorched appearance. Kantartzi's work will include investigating DNA markers in plants that show signs of resisting the virus and working to create varieties that will be resistant to the virus.
---
November 10, 2010
Saluki Heritage Interpreters [SHI] Create Understanding


"Everything everywhere speaks to us, but we often don't understand what is said. Interpreters help us make sense of the stories the natural world, historical objects and cultural remnants have to tell us. At Southern Illinois University Carbondale, a group of forestry students is learning to give those stories a voice.
---
November 02, 2010
Forestry Students Help Children Learn About Nature


When a Monarch sits on your nose, it tickles. So says Donovan McNelly, 9, and he should know. A female Monarch butterfly out at the Crab Orchard Wildlife Refuge rested on his nose for more than a minute after Ranger Jodie C. Delaney finished tagging her.
---
October 27, 2010
Swamp Rabbit Decline Is Slowing


Chances are that many of us have never seen a swamp rabbit. The swamp rabbit is a larger, darker-colored cousin to the cottontail rabbit. They like to hang out near wetlands with scenery that includes an abundance of irregular patches of shrubbery with brushy edges and stumps.
---
October 26, 2010
Student Makes His Mark In Ironman Championship


One graduate student from SIUC joined the elite ranks of those competing in the 2010 For Ironman World Championship in Lona, Hawaii. Kyle Monroe, a graduate student in the Forestry Department, previously competed for SIUC in cross-country and track. Monroe finished 452nd overall, and 48th in the 25-29 age group.
---
October 22, 2010
This Class Is For "Ewe"


At one time, the College offered courses related to sheep. However, the little lambs left campus years ago. But a growing interested in small, more manageable ruminants has the College bringing back the animals.
---
October 20, 2010
No-Till Technique Good For Pumpkins


Dr. S. Alan Walters, an Associate Professor in Plant and Soil Science, has conducted research on no-till techniques for vegetable production for years. Tilling increases the break-down of organic matter in the soil, where no-till builds organic matter.
---
October 11, 2010
University Farms Likes "Ewe"


At one time, the College offered courses related to sheep. However, the little lambs left campus years ago. But a growing interested in small, more manageable ruminants has the College bringing back the animals. Five Lincoln longwool ewes have moved into the Beef Center at University Farms.
---
September 23, 2010
Green Roof Open House Big Hit!


As part of the 2011 Agriculture Industry Days at the College of Agricultural Sciences, people flocked to visit the new green roof atop the Agriculture Building.
---
September 15, 2010
NSF Grant Focuses On Predicting Water Usage And Quality

Dr. Silvia Secchi, Assistant Professor of Agribusiness Economics, is working with a multi-disciplinary team of researchers at SIUC on a $1.43m grant from the National Science Foundation to examine the response of Midwestern farmers to climate changes.
---
July 08, 2010
Herbicide-Resistant Weeds Affecting Soybean Fields

Ever get annoyed by candles that re-light after you have blown them out? Dr. Bryan Young feels the same way about weeds that come back after they have been sprayed with herbicide.
---
July 07, 2010
Horse Center Welcomes Sporty New Foal


The Horse Center is home to a new foal this summer named Renee. What makes this foal unique is that her breeding differentiates her from the other foals.
---
July 02, 2010
Clay Nielsen To Discuss Deer, Crops During Field Day
Dr. Clayton K. Nielsen, a wildlife specialist and Assistant Professor at SIUC, believes if more people ate deer, there would be fewer deer eating corn. Nielson states, "There's an estimated 30 million deer continent wide ..."
---
June 30, 2010
Report: SIUC A Top Choice For Military Personnel
Southern Illinois University Carbondale continues to be a top choice for active-duty military personnel who are pursuing degrees. The University is ranked 40th by active duty service members who used tuition assistance during the 2010 fiscal year, according to a report in the June/July 2011 issue of "Military Times Edge" magazine.
---
June 23, 2010
New Field Corse Takes SIUC Students To Rainforests


A new course offering at SIUC will take students to the rainforests of Central America, providing them with an opportunity to learn and live in a foreign country while practicing science in the wild.
---
June 16, 2010
Do "Vegetarian Fish" Taste Better?


Researchers at SIUC are collaborating on a project to determine if hybrid striped bass raised on soy-based feed taste better and are healthier and more economical than other fish. Dr. Sylvia Smith, a certified chef and Assistant Professor in Food and Nutrition is working with Dr. Jesse Trushenski, a fish nutritionist in the Zoology Department.
---
May 12, 2010
"Chip" And "Dale" Join Equine Program


The Equine Program received two new arrivals in the Fall of 2009. After learning about the Equine program at SIUC, Mr. Phil Farrell decided to send "Chip" and "Dale."
---
April 26, 2010
Kuehns' Estate Gift Benefits Agriculture Students And Research


A DuQuoin couple remembered for their devotion to SIUC will benefit students for years to come. Harold and Nora Kuehn left a significant estate gift to the SIUC Foundation. The gift includes the Kuehn farmland located in Dowel, IL.
---
March 31, 2010
Ag Student Receives "Real World" Experience With Internships


The College of Agricultural Sciences provides its students with numerous internship opportunities. Internships are a way for students to in gain "real world" experience or explore different careers. Kathleen Carmack, a senior in plant and soil science, has taken advantage of two internships during her undergraduate career.
---
March 26, 2010
Industry Group Lends Hand In Horse Barn Reconstruction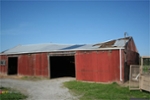 The Illinois Equine Industry Research and Promotion Board had pledged to assist the College of Agricultural Sciences with funding to replace a horse barn used for teaching, research and breeding. In the storm of May 8, 2009, the building was one of several structures destroyed at University Farms.
---
March 24, 2010
"Teaching Forest" Receives Sustainability Grant


In March 2007, the Department of Forestry took its first step to implement a management plan for over 1,200 acres of woodlands on its University Farms. The Department developed wooded areas into outdoor lab spaces in which students could work hands-on with management techniques they learn in class.
---
March 09, 2010
Winters Named Interim Dean Of Agriculture College

Dr. Todd A. Winters, Associate Dean for the College of Agricultural Sciences at SIUC, was named Interim Dean, filling a vacancy created December 31, 2009 with the retirement of Dr. Gary Minish.
---
March 05, 2010
Student Assists With Energy Research Project


Kristen Woods, a senior in Agribusiness Economics is spending her time assisting Dr. Silvia Secchi with research into public sector initiatives aimed at fostering production of a variety of renewable energy sources. Woods' work focuses on identifying federal and state efforts that assist alternative energy producers, and how those efforts have changed energy production.
---
February 26, 2010
Researchers Conduct Wildlife Survey In Panama


Dr. Clay Nielsen and Dr. Andrew Carver of the Department of Forestry, are assisting parks personnel and biologists in Panama with conducting a wildlife survey.
---
February 24, 2010
Forage Soybean Proving To Be Beneficial For Cows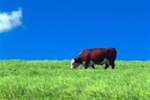 Can cows benefit from soybean feed and forage? Dr. Rebecca Atkinson, a beef nutritionist, is completing research on the effects of soybean forage. Atkinson has been discovering that soybean plants provide pretty much the same nutritional qualities as alfalfa.
---
February 11, 2010
Student Studying Effects Of Herbal Remedy On Fungal Toxin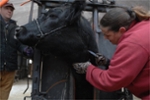 Jamie M. Douglas, a graduate student in Animal Science, is working in conjunction with Dr. Karen Jones to study a potential herbal remedy for fescue toxicosis. Douglas is studying the effects that blessed thistle extract has on fungal toxin.
---
February 02, 2010
Livestock Judging Team Off To Good Start
The Lifestock Judging Team headed to Denver, CO for its first competition at the National Western Stock Show, January 15-16, 2010. The team scored a 10th place in the "carload-judging event." And junior, Ryan D. Kinney (Animal Science), won top overall in the "carload-judging" competition. Ryan Orrick, team coach, commented, "That was a special honor. It was the highlight of the trip." Other team members representing SIUC included: Lauren Evans (agribusiness economics), Derek Moore (agribusiness economics), Karra Kirby (animal science), Donna Drebes (agribusiness economics), and David Strathman (animal science).
---
January 06, 2010
PotashCorp Contributes Lead Gift For Greenhouse
PotashCorp, the world's largest fertilizer enterprise, has made a $250,000 contribution to the College of Agricultural Sciences as the lead gift for a fundraising initiative to replace a 50-year-old greenhouse that is the core learning laboratory for the Plant and Soil Science program.
---