2008 News
---
September 02, 2008
Kendall College Students Get A Taste Of Farm Life


Ever wonder where your food comes from? A group of students from Kendall College, a professional culinary arts school, can answer that question a little better after spending some time at the SIUC University Farms. Dr. Silvia Smith, Assistant Professor of Food and Nutrition, arranged the details of the visit.
---
August 12, 2008
Department Welcomes New Faculty Member


This fall, the Department of Agribusiness Economics welcomed Dr. Silvia Secchi to its ranks. Secchi will focus her teaching and research in the area of energy economics and policy.
---
July 23, 2008
Study Determines Added Bacteria Has Negative Impact On Obesity


Could diets supplemented with "helpful" bacterias improve the health benefits of soy?
---
July 23, 2008
Research May Help Save Kankakee Sands Savanna


Dr. John W. Groninger, Department of Forestry Professor, led the research at Kankakee Sands a Nature Conservancy preserve straddling the Illinois state line near Kankakee.
---
July 07, 2008
Forestry Students Win Student Presenter Competition


For two straight years, SIUC forestry students have earned top honors at the annual Student Presentation Competition at the American Water Resources Association [AWRA] Conference.
---
June 25, 2008
Forestry Department Raising Cane!!!


The Department of Forestry is literally, "raising cane" at the SIUC Tree Improvement Center. Cane has gradually been disappearing for years. According to Dr. Jim Zaczek, "Only about 2 percent of the canebrake habitat is left" in the United States.
---
June 05, 2008
SIUC To Play Key Role In Assisting Afghan Farmers
A research team of 12 SIUC faculty, in conjunction with teams from Colorado State University, New Mexico State University, and the University of Illinois, will work directly with Afghan universities and government agencies on a project entitled, "Afghanistan Water, Agriculture and Technology Transfer" [AWATT].
---
June 04, 2008
Equestrian Team Member Competes In National Competition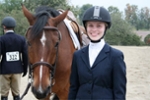 Cornman qualified to attend the National Championship for the Intercollegiate Horse Show Association. The event was held at the Los Angeles Equestrian Center in May 2008. Although Cornman didn't place at the event, she looks forward to saddling up for the Equestrian Team for next season.
---
May 22, 2008
Dr. John Phelps Retires
Dr. John Phelps, Forestry Department Chair retires after 18 years with the Department of Forestry. The Department welcomes Dr. Jim Zaczek as the Interim Chair.
---
May 21, 2008
Department Welcomes New Soybean Breeder!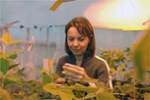 Dr. Stella Kantartzi joined the faculty on August 16, 2008. She brings with her a strong research base in molecular biology techniques.
---
May 20, 2008
Student Project Discovers Contamination Potential For Autumn Olive


Senior Forestry Student, Andrew Somor, completed a study on the water quality impacts of autumn olive.
---
May 16, 2008
Researcher Enhances Horseradish Specialty Crops


As the developer of new horseradish cultivars, Dr. S. Alan Walters, enjoys producing hybrid plants for producers across the midwest.
---
May 14, 2008
Students Create High-Tech "Podcasts" For National Wildlife Refuge
While walking through a national park, ever wanted to ask a question about some of the things you see?
---
May 02, 2008
Animal Science Student Wins International Competition
Jamie Douglas, an SIUC senior in Animal Science, was recently awarded a $1,000 scholarship from Alltech, a global corporation specializing in animal and human nutrition. Douglas was one of 700 entrants from approximately 80 universities around the world competing for the scholarship.
---
April 30, 2008
Scientist Suggests Ethanol By-Product For Use In Livestock Feed


When biomass is transformed into fuel, it creates a byproduct called "glycerol." At present, there is no real value for this "glycerol." Dr. Amer AbuGhazalah, an animal scientist at SIUC, proposes that the glycerol could be an acceptable livestock feed supplement for corn.
---
April 30, 2008
Dairy Center Expands Research And Teaching Opportunities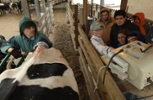 Last December, two new hoop-style buildings were built at the SIUC Dairy Center on McLafferty Road. The structures were built to replace two old-style stall housing facilities and a small research barn/feeder shelter.
---
April 24, 2008
Instructor Lands $100,000 Grant For Culinary Tourism
Nicole Davis, an SIUC Instructor in Hospitality and Tourism Administration, teamed up with Debbie Moore from the Carbondale Convention and Tourism Bureau to land a $100,000, two-year grant that hopes to draw culinary tourists to the region.
---
April 03, 2008
"Hillcrest Beckylynn" Becomes Equines "Big Dawg"


The Department of Animal Science, Food and Nutrition is proud to welcome its newest addition-"Hillcrest BeckyLynn."
---
January 30, 2008
Forestry Student Volunteers Efforts To "Make A Difference"
Jim Muhlhausen, a Forestry major, volunteers his time with the Saluki Volunteer Corps.
---
January 30, 2008
Doctoral Program Approved
There is a long-awaited change taking place within the College of Agricultural Sciences. On December 4, 2007 the Illinois Board of Higher Education approved a Ph.D. Degree Program for the College. The College is moving forward with final planning for the program. Dr. Gary Minish, Dean, anticipates the College will strive to enroll the first students into the newly developed program in Fall 2008.
---
January 04, 2008
SIUC SDS Research Leads To Patent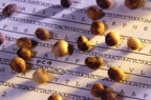 According to soybean farmers, the phrase "Sudden Death" does not refer to an overtime period in a sporting event. Sudden Death Syndrome (SDS) is a fungal disease that costs the soybean industry millions of dollars each year.
---