2008 News
---
December 04, 2008
Researchers Take Aim At Restoring Fort Knox


After years of serving as a training ground for tanks and various other Army weaponry, the ground at Fort Knox has experienced significant erosion and damage.
---
2007 News
---
December 05, 2007
SIUC Taking The Lead On Education For New "Vet-Tech" Degree


Recognizing the need for veterinary technicians, SIUC is playing a key role in providing hands-on training and education with animals leading to an associates degree in veterinary technology. The program will be offered at SIUC to students from five community colleges through the Southern Illinois Collegiate Common Market.
---
November 02, 2007
New Faculty Hire Cooks Up Interest In Culinary Tourism


What is Culinary Tourism? Dr. Sylvia Smith, a newly hired Assistant Professor, defines "Culinary Tourism as ... travel for the taste and enjoyment of prepared food and beverages." Smith states that a survey released in 2007 indicates that 17% of leisure travelers include food and/or wine-related activities in their trips.
---
October 31, 2007
Forestry Club Brings Home The Gold For The 16th Straight Year


The SIUC Forestry Club recently competed in the Midwestern Foresters Conclave Competition held on October 6, 2007 in Madrid, Iowa.
---
October 22, 2007
Re-engineering The Soybean For Biodiesel


Could soybeans be used to produce an alternative fuel source for America? Researchers believe that with a few "tweaks," soybeans could be bred to produce an oilier product specifically for the biodisel industry.
---
September 20, 2007
Economist Investigates Impact Of FutureGen Project


Dr. Ira Altman, Agribusiness Economist, states that the county that lands the new FutureGen project could score a big boost to their economy. FutureGen is a project in the works that hopes to produce a low-pollution energy from coal.
---
September 12, 2007
Delaney Family Creates Scholarship Endowment
G. David Delaney, at 1983 SIUC graduate, established a $100,000 endowment in his father's honor to benefit students in the College of Agricultural Sciences. "My father was a great motivator. He had an easygoing manner, but his actions displayed wisdom and integrity," stated Delaney. Four $1,000 scholarships will be awarded each year.
---
September 06, 2007
Ethanol Is Here To Stay!


Dr. Matthew Rendleman states that "Thirty-four percent of this country's corn crop now goes to the category that includes the manufacture of ethanol." Rendleman, an agribusiness economist, believes that ethanol is actually a "maturing industry." It has been around for decades, but further technological advancements could help push it to the forefront of alternative fuels once again.
---
July 25, 2007
Agriculture Specialties Become Majors


There is a long-awaited change taking place within the Department of Animal Science, Food and Nutrition this fall.
---
July 02, 2007
Student Receives National Honor For Research


Crystal Doll Welsh, a master's student in animal science, took second place at the Equine Science Society's national graduate competition for research in reproductive physiology in Hunt Valley, Maryland on June 8, 2007.
---
June 28, 2007
Ag Student Completes Study Abroad


Several SIUC students recently completed a study abroad opportunity during the four-week Summer 2007 Intercession. Food and Nutrition student, Janell L. Huckstadt (from Champaign) was one of 30 students representing SIUC.
---
June 27, 2007
Illinois Soybean Center Takes Off!


The College of Agricultural Sciences has a new name for its Center of Excellence for Soybean Research, Teaching and Outreach [CESRTO].
---
May 09, 2007
Study Discovers Benefits of Vermicompost


Undergraduate student, April Vigardt, completed a 12-week study of the impact of vermicompost used as a greenhouse medium when growing broccoli starts.
---
May 04, 2007
Undergraduate Students Win Funding For Research Projects
Four students from the College of Agricultural Sciences received funding to complete research during the upcoming 2007-2008 academic year. The students are part of the 2007 REACH [Research Enriched Academic Challenge] Awards Competition.
---
May 01, 2007
Undergraduate Researchers Win Awards
David Dalzotto, a senior in forest hydrology from the College of Agricultural Sciences, took second place in the poster competition.
---
April 17, 2007
"MANRRS" Places In National Competitions
Two students from the SIUC chapter of Minorities in Agriculture, Natural Resources and Related Sciences placed in a national competition in Birmingham, AL in April.
---
March 14, 2007
Yeast Research May Help Boost Ethanol Production


Researchers are "buzzed" over the possibility of using yeast to boost ethanol production. Dr. Ahmad Fakhoury, plant pathologist, spends his days investigating fungal genetics and the industrial applications of microbes.
---
March 07, 2007
New Synthetic Compound Could Help Fight Fat


Dr. William J. Banz, professor in the Department of Animal Science, Food and Nutrition, led a team of multidisciplinary researchers in the research of a synthetic compound that could help fight fat and cut the chances of contracting a cluster of other conditions that is more commonly knows as the "metabolic syndrome."
---
March 02, 2007
"Teaching Forest" In The Plans


The Department of Forestry is taking the first step in implementing a management plan for over 1,200 acres of woodlands on its University Farms. SIUC runs one of the nation's top forestry programs, and the addition of a "Teaching Forest" is seen as a way to enhance the Forestry program, as well as faculty research and community outreach programs.
---
February 15, 2007
Ag Student Named To USA Today All-USA College Academic Team For Second Year


Miss Fahran Robb of Pinckneyville was name by USA Today as one of the top 80 students in the country for the second straight year.
---
2006 News
---
December 12, 2006
Professor Works With Doctoral Student To Create Computer-Aided Modeling Program


Dr. Luba Kurkalova (Assistant Professor) is working with Mark E. Carlos (doctoral student, ERP) to create a computer-aided modeling program to provide analysis of the relationships between economics factors and environmental results.
---
October 31, 2006
Students Assess Best Ground Cover For Campus


Did you ever wonder which is the better and cheaper ground cover? Zoysia or fescue?
---
October 31, 2006
Horse Judging Team Does Well In First Competition
The SIUC Horse Judging Team was formed in August, 2006 after a group of student approached Dr. Gary Minish, Dean of the College of Agricultural Sciences, and persuaded him to put together the team. Stephanie Speiser, an Animal Science Instructor, took on the challenge of putting together the eight-member team. Upon attending its first competition in Oklahoma City in mid-October, the group brought back 19 shiny new ribbons for their accomplishments.
---
October 25, 2006
Students Create A Special Garden In Honor Of Their Classmate
Members of the Agricultural Education Club worked to create a living memorial in memory of one of their fallen classmates, Kara L. Gruenenfelder.
---
October 09, 2006
Soybean Research Produces New Varieties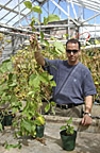 Dr. Khalid Meksem, SIUC crop researcher for the College of Agricultural Sciences, received a three-year grant to study "mutant plants." Meksem studies the plants in order to identify desirable genetic traits, single them out, and then bred plants to include the genetic changes.
---
June 13, 2006
Asian Rust Watch


The State's agricultural scientists stand watch over the entry of a destructive soybean fungal disease, Asian Rust. During the flowering stage, infected plants begin to show symptoms of the disease. As a result, researchers have established sentinel plots with early maturing soybean varieties in an attempt to catch the problem more quickly.
---
June 01, 2006
Ag Alumnus & World Food Prize Recipient, Edson Lobato, Returns To SIUC For A Visit
The World Food Prize honors work that improves the world's food supply. Lobato shares the award with H.E. Alysson Paolinelli, former Agriculture Minister for Brazil and A. Colin McClung, IRI Research Institute.
---
April 25, 2006
SIUC Providing Product Information To Farmers Via The Web


Advertisements can be misleading. In some cases, manufacturers resort to lying about their product in hopes of increasing sales.
---
January 19, 2006
Afghanistan Researchers Seek Assistance From Forestry Professor


Dr. John W. Groninger, Associate Professor, visited Afghanistan as part of a joint research team from SIUC, University of Illinois, and Pakistan's Northwest Frontier Agricultural University. The researchers hoped to assist Afghan scientists with rebuilding the agriculture program at Balkh University in Mazar-e-Sharif.
---
January 17, 2006
Agriculture Students Have Good Job Prospects


Dr. Kim S. Harris, Associate Professor of Agribusiness Economics, predicts a fertile career field for college seniors and those coming up behind them; particularly in the areas of food, agriculture and natural resources.
---
2005 News
---
December 02, 2005
Saluki "Fire Dawg" Hopes To Put Diploma To Good Use


After completed a summer job in a factory, Forestry student Brian Bosler, decided he wanted to pursue his dream of fighting fires in forest wild lands. Bosler's dream started taking shape after joining the "Saluki Fire Dawgs," a student group dedicated to forest research and wild lands maintenance.
---
June 23, 2005
Professor Visits Afghanistan To Assist With Rebuilding Efforts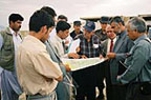 Dr. Phillip R. Eberle (Associate Professor) and Dr. Oval Myers (Professor Emeritus) went to Mazar, Afghanistan as part of a join effort with the University of Illinois and Northwest Frontier Agricultural University in Peshawar, Pakistan aimed at rebuilding Balkh University's agriculture programs.
---