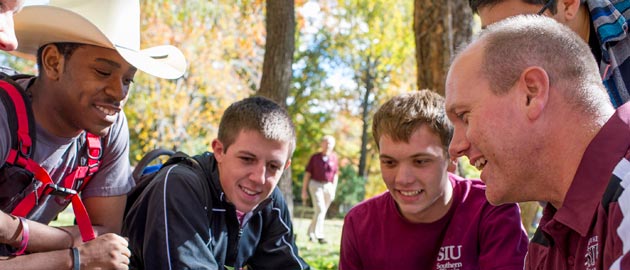 Forestry
The Department of Forestry offers a range of career-friendly concentrations, giving you the opportunity for in-depth study in the areas that advanced forestry students want. Our interdisciplinary approach helps students tailor the curriculum to their specific needs.
The Shawnee National Forest, Cache River State Natural Area, Crab Orchard National Wildlife Refuge and other state parks and natural areas position SIU as a natural choice for students serious about advanced degrees in forestry. 
Learn about the Master's in Forestry program requirements.
Concentrations include:
Forest Resource Management
Our program melds a business-based approach with technical forestry principles for policy making and management approaches that address both conservation and economics for sustainable planning. Students learn urban forestry as well as wilderness forestry management, including tree improvement, forest resource marketing and tree physiology.
Ecological restoration
Students learn about bringing back and maintaining healthy forests capable of contributing to overall ecological health. Our program addresses both the rising challenges facing restoration, and the economic and ecological benefits of a healthy population of trees and timber. Students study regeneration and old growth maintenance, and may participate in regional silviculture studies here or abroad.
Fire science
Students research fire science as it relates to effective wildland management, disturbance ecology and historical ecology. Field trips reinforce students' hands-on learning and research opportunities. This program helps prepare informed policy makers and managers for both government and private sector careers.
Recreation ecology
Our connections to local, state and federal agencies enhance our students' career preparedness and provide nearby internship or research opportunities. Students learn to monitor, analyze and present data about the environmental impact of recreational activity in natural areas, and to create usage plans to minimize impact without eliminating recreational opportunities.
Human dimensions of natural resource management
This program focuses on decision-making and how it happens in natural resource management. Students learn about the stakeholders involved with natural resources, from landowners to guides and outfitters to government agencies. Students learn conflict management and problem-solving skills as well as data analysis and planning approaches. 
Wildlife habitat management
This concentration gets students into the habitat and hands-on with the wildlife that's in it. Opportunities for field research include tagging, tracking and data analysis contributing to real-world policy decisions about habitat management and species restoration. Students find interdisciplinary learning and researching options with the Cooperative Wildlife Research Lab.
Watershed management
Students study sustainable distribution of watershed resources, and  procedures and technical problems as well as alternative practices and the consequences of mismanagement. SIU's location between two major rivers means students learn in real time about runoff, water rights, flood plains and drainage, water quality and overall planning and use of watersheds. 
Hydrology and soil science
Students in this program study the fundamental relationship between soil, water and natural habitat health. Students will become well-versed in current issues at the regional, national and international levels. Resource and site evaluation, including the interface between wetlands and other ecosystems help students focus on particular areas for their research interests. 
---
The graduate forestry curriculum combines intense study of current literature and research methodologies, with personalized, guided field work and individual research. The diversity of our faculty experts means that students can find a mentor in several specific areas of forestry research, with publication as a goal. Students benefit further from our on-campus facilities and nearby access to a wildly diverse array of ecosystems.
SIU is an important resource in the greater Southern Illinois region and areas of our neighboring states. Student research and field work can and does directly impact the region. Students who are looking to make a difference in the world should consider starting right here.