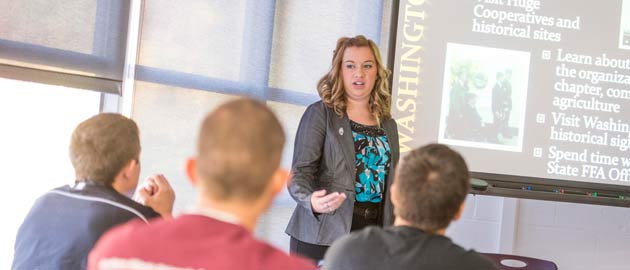 Accelerated MS Degree
The Accelerated Master of Science degree with a major in Agribusiness Economics allows motivated and high achieving students to complete the program in about 12 months beyond their BS. As early as sophomore year, junior year for transfer students, a student working with a faculty advisor will develop a program of study consistent with the student's interest and goals. To complete the Accelerated MS Degree nine credit hours of 400 ABE classes are double counted toward an undergraduate and a Master's degree. Twenty-one hours are taken after undergraduate graduation.
The option requires satisfactory completion of nine hours in structured agribusiness economics courses: ABE 500, ABE 571 (or 471 if taken at the undergraduate level), and ABE 572 (or 472). Twenty-one hours of elective graduate credit, which may include ABE credit hours at the 400-level taken as an undergraduate, are selected based upon recommendation of a faculty advisor. Six of these hours must be at the 500-level. As with the traditional ABE Master's program, ABE 593 Individual Research is required as students complete a research project. A service component, ABE 591, is also required for the degree.
This option is preferred for individuals that recognize the value in an advanced degree as the degree may lead to higher entry positions in their chosen career path, more responsibilities, and greater life-long earning potential. An associate benefit of the Accelerated program to students is the ability to save money by completing their studies quicker.