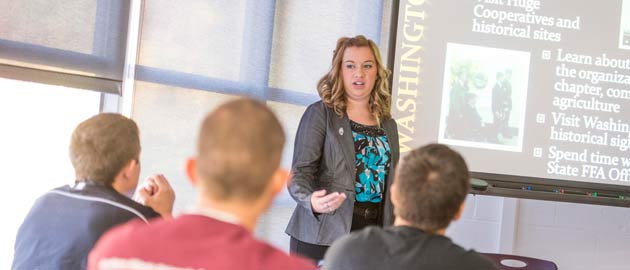 Career Opportunities
Our quality Master of Science degree in Agribusiness Economics launches exciting careers in farm management, commodity marketing, pricing, finance, land use, foreign trade, natural resources, agricultural and rural policy, and economic development.

Graduates from our program are empowered with the new found capacity to understand and apply decision-making tools to help troubleshoot and possibly solve problems at farms, agribusiness firms and governmental agencies. They harness their education in making solid, day-to-day operational choices and are highly involved in research, planning and matters of policy.
Typical jobs include decision-making positions on farms, with farm supply firms (e.g. feed, chemicals, machinery), in marketing firms (e.g. commodity brokers, livestock markets, grain elevators), and with private and public organizations providing services (e.g. farm management, finance, insurance, education, extension) to farms, agribusiness and the rural sector.
Sample job titles include:
Farm management specialist for agricultural extension
Agricultural policy specialist for public organization
Farm manager
Farm bureau executive
Grain merchandiser
Commodity trader
International and domestic grain trader
Price / risk manager in commodity marketing firm
Dairy economist at USDA
Market analyst at agricultural firm
Agricultural bank manager
Portfolio manager at agricultural investments firm
Credit analyst
Insurance underwriter
Policy analyst
Agricultural market advisor
Sales manager with chemical, seed, feed and fertilizer company
Renewable energy analyst
Logistics manager at food processing firm
Food company manager
Commercial buyer for food conglomerate