Mickey Latour, Ph.D.
Professor, Animal Science Food and Nutrition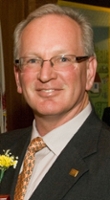 Office Phone: 618 | 453-2469
E-mail: mlatour@siu.edu  
Building Location: Agriculture Building, Room 200
Mailing Address:
College of Agricultural Sciences
Southern Illinois University Carbondale
1205 Lincoln Drive
Carbondale, IL 62901-4416
Mickey earned is BS degree from Southeastern Louisiana University and MS/PhD from Mississippi State University in the area of Animal Physiology.  After graduate school, Mickey accepted a National Institutes of Health (NIH) Fellowship at Washington University School of Medicine to study Familiar Hypobetalipoproteinemia.  Following his NIH fellowship, he accepted a faculty position at Purdue University to investigate Lipid Metabolism and created one of the first self-supporting online courses, Introduction to Animal Sciences.  In 2009-2010, Mickey was promoted to Associate Dean and Director for Distance Learning at Purdue University.  In 2012, Mickey left Purdue University at the rank of Professor and Associate Dean and joined SIUC as the Dean of Agricultural Sciences.   
Specialty/Interests
Orienteering
Lipid Metabolism 
Distance and Online Education  
Self-supporting programs
Classes
Today, appointment is primary administration. 
Previous courses taught
Introduction to Animal Sciences - undergraduate course both face-to-face and online
Lipids –graduate course
Design and Analysis – University Honors course
Education
BS Southeastern Louisiana University
MS Mississippi State University
Ph D Mississippi State University
NIH Fellow, Washington University School of Medicine
Recent Publications and Awards
Publications (selected from 85 published)
Ellis, C., and M. A. Latour, 2014.  Improving course completion rates through the use of a distance learning assistant.  JMER Vol 4, No. 11, pages 870-875. 
Apgar, G., B. Banz, and M. A. Latour, 2014.  Engaging students in large lecture classes.  NACTA (58) 85-86.
Zhu, Y., S. Arnold, B. Richert, A. Schinckel and M. Latour, 2012.  Impact of Distillers Dried Grains with Solubles and Restaurant Grease on Pork Loin Quality. JABR Vol 1(6)102-115. Invited Review, Former student in M. Latour laboratory.
Hooda, S., L.G. Ferreira, M.A. Latour, L.L. Bauer, G. C. Fahey, Jr. and K.S. Swanson, 2012. Digestion and Metabolic Characteristics of an Expanded Pork Skin Chew and a Rawhide Chew in Healthy Dogs. J. Anim. Sci. 90:4355-4361.
White, H.M., B.T. Richert and M.A. Latour, 2012. Impacts of Nutrition and Environmental Stressors on Lipid Metabolism: ISBN 980-953-307-142-3, Invited Review, Former student in M. Latour laboratory.
Awards and Honors
Excellence in Leadership, Association of Illinois Electric Cooperatives, 2014.
Member of the College of Agriculture Team Award for Distiller's Dried Grains Research, Purdue University. 2009.  Dean Latour contribution was the mechanism behind soft fat tissue in final pork products.
Richard L. Kohls Outstanding Teaching Award, Purdue University, 2008.
Teaching Academy Fellow, Purdue University.  2008.
National Teaching Fellow, North American Colleges and Teaching in Agriculture.  2007.
Excellence in Teaching Award, Department of Animal Science, Purdue University.  2001, 2004 and 2007.
Excellence in Classroom Instruction, USDA.  2004.
Award of Excellence in Distance Education, Purdue University.  2001.
Graduate student award for best oral presentation, National Poultry Science.  1995.
Other