William J. Banz, Ph.D., R.D.
Acting in the Capacity of dean, College of Agricultural Sciences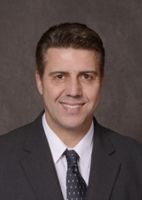 Office Phone: 618|453-2469
E-mail: banz@siu.edu 
Building Location: Agriculture Building, Room 200
Dr. Banz's specialization is in Nutrition Physiology, focusing primarily on the relationship amongst the bioactive components of functional foods, health and gene-nutrient interaction. Much of his research is concentrated on the health of soybeans, soybean phytochemicals and synthetic estrogens ranging across a wide spectrum of topics, from basic mechanistic research to applied human studies. Dr. Banz teaches undergraduate and graduate courses in Nutrition and Dietetics.
Special Interests
Treatment and prevention of obesity and its associated syndromes (metabolic syndrome, Type 2 diabetes mellitus, nonalcoholic fatty liver, and heart disease).
Demonstrated unique anti-diabetic effects of numerous plant extracts (e.g., soybean, milk, flaxseed and ginseng extracts) and synthetic compounds. In preclinical rat models, some of the compounds tested have exhibited efficacy in controlling specific diabetic parameters and cardiovascular disease risk factors.
Performing further laboratory and preclinical tests to help determine the efficacy of the most promising plant extracts and synthetic compounds identified.
Classes
HND 356
HND 101
HND 475
ASN 581
AS/FN 500
FN 574
HND 320
FN 472
Descriptions are available for each of these classes in the course listing for Food and Nutrition [FN].
Education 
Ph.D. [1995], University of Tennessee-Knoxville
M.S. [1990], University of Wisconsin-Stevens Point
B.S. [1988], University of Wisconsin-Stevens Point
Recent Publication and Awards
Jessica M. Stout, Austen N. Knapp, William J. Banz, Douglas G. Wallace, and Joseph L. Cheatwood 2013 Subcutaneous daidzein administration enhances recovery of function following stroke in rats. Behav. Brain Res.
Jeremy E. Davis, James Cain, William J. Banz and Richard G. Peterson 2013 Age-related Differences in Response to High-fat Feeding on Adipose Tissue and Metabolic Profile in ZDSD Rats IRSN Obesity
D Zhou, S Lezmi, H Wang, J Davis, W Banz, and H Chen 2013 Fat Accumulation in the Liver of Obese Rats is Alleviated by Soy Protein Isolate through the Restoration of the Wnt/β- Catenin Signaling. Obesity (Silver. Spring)
Banz W.J., A.D. Strader, K.M. Ajuwon, Y. Hou, C.Y. Meyers and J. Davis. 2012. (+)-Z-Bisdehydrodoisynolic enhances basal metabolism and fatty acid oxidation in female obese Zucker rats.  Journal of Obesity 2012, Article ID 154145
Deckelbaum RJ, Calder PC, Harris WS, Akoh CC, Maki KC, Whelan J, Banz WJ, Kennedy E. Conclusions and Recommendations from the Symposium, Heart Healthy Omega-3s for Food: Stearidonic Acid (SDA) as a Sustainable Choice. Journal of Nutrition 2012, 142:641S-3S
Banz WJ, Davis JE, Clough RW, Cheatwood JL. Stearidonic Acid: Is There a Role in the Prevention and Management of Type 2 Diabetes Mellitus? Journal of Nutrition 2012, 142:635S-40S
Cain, J., W. J. Banz, D. Butteiger, and J. E. Davis. 2011. Soy protein isolate modified metabolic phenotype and hepatic Wnt signaling in obese Zucker rats. Horm. Metab Res. 43(11):774-781
Cheatwood, J. L., D. Burnet, D. N. Butteiger, and W. J. Banz. 2011. Soy protein diet increases skilled forelimb reaching function after stroke in rats. Behav. Brain Res. 216(2):681-684
Cho, K. W., O. H. Lee, W. J. Banz, N. Moustaid-Moussa, N. F. Shay, and Y. C. Kim. 2010. Daidzein and the daidzein metabolite, equol, enhance adipocyte differentiation and PPARgamma transcriptional activity. J. Nutr. Biochem. 21(9):841-847
Neese, S.L., R.W. Clough, W. J. Banz, and D.C. Smith. 2010. Z-Bisdehydrodoisynolic acid (Z-BDDA): an estrogenic seco-steroid that enhances behavioral recovery following moderate fluid percussion brain injury in male rats. Brain Res. 1362:93-101
Cheatwood JL, Burnet D, Butteiger DN, Banz WJ. (2010)  Soy protein diet increases skilled forelimb reaching function after stroke in rats.  Behavioural Brain Research. 2010 Sep 27. [Epub ahead of print]
Neese SL, Clough RW, Banz WJ, Smith DC. (2010) Z-Bisdehydrodoisynolic acid (Z-BDDA): An estrogenic seco-steroid that enhances behavioral recovery following moderate fluid percussion brain injury in male rats. Brain Research  Nov 29;1362:93-101
Cho KW, Lee OH, Banz WJ, Moustaid-Moussa N, Shay NF, Kim YC. (2010) Daidzein and the daidzein metabolite, equol, enhance adipocyte differentiation and PPAR gamma transcriptional activity. Journal of Nutritional Biochemistry Sep;21(9):841-847
Ajuwon KM, Banz W, Winters TA. (2009) Stimulation with Peptidoglycan induces interleukin 6 and TLR2 expression and a concomitant downregulation of expression of adiponectin receptors 1 and 2 in 3T3-L1 adipocytes. Journal of Inflammation-London  Apr 6;6
Davis, Jeremy E.; Hou, Yuqing; Meyers, Cal Y. (2009) Banz, William J. Potential Clinical Applications of (-), (+) and (±)-Z-Bisdehydrodoisynolic Acids in Metabolic Disorders . Recent Patents on Endocrine, Metabolic & Immune Drug Discovery, Volume 3, Number 3, November 2009 , pp. 173-178(6)
Steinle J, Lashbrook BL, Banz WJ  (2008) Rosiglitazone increases PEDF gene and protein expression in the obese Koletsky rat choroid. Sci Pharm. 76:133-149
Iqbal MJ, Higginbotham A, Chickris N, Bollaert M, Rockway S, Banz WJ (2008) A Combination of CLA and DAG Oil Modify the Diabetic Phenotype and Gene Expression in Male ZDF Rats. HMR 40(4):262-268
William J. Banz, MJ Iqbal, Michael Bollaert, Nicole Chickris, Bryce James, D. Allan Higginbotham, Richard Peterson, Laura Murphy (2007) Ginseng modifies the diabetic phenotype and genes associated with diabetes in the male ZDF rat. Phytomedicine 14:681-689
Davis J, Higginbotham A, O'Connor T,  Moustaid -Moussa N, Tebbe A, Kim YC, Cho K, Shay N, Adler S, Peterson R,  Banz WJ  (2007) Soy Protein and Isoflavones Influence Adiposity and Development of Metabolic Syndrome in the Obese Male ZDF Rat. Ann Nutr Metab 51: 42-52
Adler M, Hou Y, Meyers C, Sandrock P, Winters T, Banz WJ, Adler S (2006) Derivatives of Z-bis-dehydrodoisynolic Acid Provide a New Description of the Binding-Activity Paradox and SERM Activity.  Endocrinology 147: 3952–3960
Shay N, Banz WJ (2005) Regulation of Gene Transcription by Botanicals. Annual Review of Nutrition Volume 25:297-315
Davis J, Iqbal MJ,  Steinle J, Oitker J, Higginbotham A, Peterson R, Banz WJ. (2005) Soy Protein Influences the Development of the Metabolic Syndrome in male obese ZDFxSHHF Rats.  Hormone and Metabolic Research 37:316-325
Davis J, Steinle J, Higginbotham A, Oitker J, Peterson R, Banz WJ. (2005)  Soy Protein Influences Insulin-Sensitivity and Cardiovascular Risk in Male Lean SHHF Rats. Hormone and Metabolic Research 37:309-315
Banz WJ, Davis J, Steinle J, Adler S, Oitker J, Winters T, Higginbotham A, Hou Y, Henery N, Peterson R, Meyers CY (2005) (+)-Z-Bisdehydrodoisynolic Acid Ameliorates Obesity and the Metabolic Syndrome in Female ZDF Rats. Obesity Research 13:1915-1924
Hickey J, Bartke A, Winters T, Henry N, Banz W (2005) Effects of Soy Protein and Soy Phytochemicals on Mammary Tumor Development in Female Transgenic Mice Overexpressing Human Pituitary Growth Hormone. Journal of Medicinal Food 8:556-559
Freeman T, Shanahan M, Banz W (2005) Incorporating nutrition into the curriculum of a Midwestern Medical School.  J Nutr Educ Behav. 37:273-274
Ricketts M, Moore D, Banz W, Mezei O, Shay N (2005) The Mechanism of Isoflavone Action Includes Activation of PPAR Pathways. J Nutr Biochem 16:321-330
Jones K, Harty J, Roeder M, Winters T, Banz W (2005) In vitro Effects of Soy Phytoestrogens on Rat L6 Skeletal Muscle Cells. Journal of Medicinal Food 8:327-331
BanzWJ, Davis J, Peterson R, Iqbal MJ (2004)   Gene Expression and Adiposity are Modified by Soy Protein in Male ZDF Rats. Obesity Research 12:1907-1913
Shay N, Banz WJ (2004) Regulation of Gene Transcription by Botanicals. Annu Rev Nutr. 2004 May 21
Banz WJ, Hauck S, Gename B, Winters T, Bartke A (2004) Soy Isoflavones Modify Liver Free Radical Scavenger Systems and Liver Parameters in Sprague-Dawley Rats. Journal of Medicinal Food 7:477-481
Kassem MA, Meksem K,  Iqbal MJ, Njiti VN, Banz WJ, Winters TA, Wood A, Lightfoot DA (2004) Two additional genomic regions that underlie soybean seed isoflavone content.  J.Biomed.Biotechnol. 1:52-60
Banz M, Most P, Banz W (2004) A workshop designed to educate dietetics professionals about the cardiovascular benefits of soyfoods.  J.Nutr.Educ.Behav. 36:103-104
Bartke A, Peluso M, Moretz N, Wright C, Winters T, Shanahan M, Kopchick J, Banz WJ (2004) Effects of soy-derived diets on plasma and liver lipids, glucose tolerance, and longevity in normal, long-lived and short-lived mice. Hormone and Metabolic Research 36:550-558
Mezei O, Banz W, Steger R, Peluso M, Winters T, Shay N (2003) Soy isoflavones exert antidiabetic effects via PPAR pathways. J Nutr. 133:1238-1243
Banz WJ, Maher MA, Thompson WG, Bassett DR, Moore W, Ashraf M, Keefer, DJ, Zemel MB (2003)  Resistance versus endurance training regarding coronary artery disease risk factors.  Exp Biol Med 228:434-440
Heo Y-R, Claycomb KJ, Jones BH, Wright P, Truett G, Zemel MB, Banz WJ, Maher M, Moustaid -Moussa N (2002) Effects of fatty (fa) allele on adipose tissue leptin and lipid metabolism. Hormone and Metabolic Research 34:686-690
Iqbal M, Yaegashi S, Ahsan R, Lightfoot D, Banz WJ (2002) Differentially abundant mRNAs in rat liver in response to diets containing soy protein isolate. Physiol Genomics 11: 219-226
Iqbal MJ, Lightfoot DA, Ahsan R and Banz WJ (2002) Differentially expressed ESTs in rat liver. Rattus norvegicus cDNA, mRNA sequences. Genbank BI BM423314-BM423319
Iqbal MJ, Lightfoot DA, Ahsan R and Banz WJ (2002) Differentially expressed ESTs in rat liver. Rattus norvegicus cDNA, mRNA sequences. Genbank BI BM414859-414916
O'Connor TP, Liesen DA, Mann PC, Rolando L,  Banz WJ (2002) High isoflavones soy protein and genistein prolong rejection of rat cardiac allografts. J Nutr 132:2283-2287
Meyers CY, Hou Y, Winters TA, Banz WJ, Mallon MA, Adler S (2002) Estrogenic activities of the diastereomers of z-bis-dehydrodoisynolic acid. J Steroid Biochem Mol Biol 82:33-44
Wilson T, March H, Banz WJ, Hou Y, Adler SR,  Meyers CY, Winters TA,  Maher MA (2002) Antioxidant effects of phyto- and synthetic estrogens on Cu++ ion-induced oxidation of human low density lipoproteins (LDL). Life Sciences 70:2287-2297
Iqbal MJ, Lightfoot DA, Ahsan R and Banz WJ (2001) Differentially expressed ESTs in rat liver. Rattus norvegicus cDNA, mRNA sequences. Genbank BI BM414859-BM414916
Meksem K, Njiti V, Banz WJ, Iqbal J, Kassem M, Hyten D, Yuang J, Winters TA, Lightfoot DA (2001)  Genomic regions that underlie soybean seed isoflavone content.  J. Biomed. Biotechnol. 1(1):38-45
Peluso M, Shanahan MF, Winters TA,  Banz WJ (2000) A cooperative interaction between soy protein and its isoflavone-enriched fraction lowers hepatic lipids in male obese Zucker rats and reduces blood platelet sensitivity in male Sprague-Dawley rats. J Nutr 130:2333-2342
Ashraf H, Banz W, Sundberg J, Arbeiter B, Wright T (2000) Soyful Luncheon: A strategy for soyfood outreach. Journal of Nutrition Education 32:177-178
Endres J, Welch P, Ashraf H, Banz W, Gower E (2000) Seniors accept soy products and increase protein in diet. Journal of Nutrition for the Elderly 19:1-17
Meyers CY, Hou Y, Robinson PD, Adler SR, Banz WJ, Winters TA (2000) Absolute structure of highly estrogenic, poorly binding bisdehydrodoisynolic acid. J Pharm Sci 89:513-518
Greer-Baney JA, Banz WJ, Lightfoot DA, Winters TA (1999)  Dietary soy protein and  Soy Isoflavones:  A histological examination of reproductive tissues in rats. J Med Food 2:247-249
Njiti VN, Meksem K, Yuan J,  Banz WJ, Lightfoot DA, Winters TA (1999) DNA markers associated with loci underlying seed phytoestrogen content in soybeans.  J Med Food 2:185-187
Banz WJ, Williams MP, Lightfoot DA, Winters TA (1999)  The effects of soy protein and soy phytoestrogens on symptoms associated with cardiovascular disease in rats. J Med Food 2:271-273
Robinson PD, Hou Y, Meyers CY, Adler SR, Banz WJ, Winters TA (1999) L-Menthyl ester of highly estrogenic (-)-Z-bisdehydrodoisynolic acid 3-methyl ether. Acta Crystallog C55
Banz WJ, Winters TA, Hou Y, Adler SR, Meyers CY (1998) Comparative effects of the selective estrogen receptor modulators (-), (+) and (±)-Z-bisdehydrodoisynolic on metabolic and reproductive parameters in male and female rats.  Hormone and Metabolic Research 30:730-736
Moore JW, Maher MA, Banz WJ, Zemel MB (1998) Chromium picolinate modulates vascular smooth muscle cell intracellular calcium metabolism.  J Nutr 128:180-184
Banz WJ, Maher MA, Zemel MB (1996)  Insulin regulation of vascular smooth muscle glucose transport in insulin-sensitive and resistant rats. Hormone and Metabolic Research 28:271-275
Jones BH, Abel MA, Banz WJ, Zemel MB, Claycomb KJ, Hung CC, Smith PJ, Moustaid N (1996)  Adipose Stearoyl-CoA desaturase mRNA is increased by obesity and decreased by polyunsaturated fatty acids.  American Journal of Physiology 271:E44-E49, 1996
Maher MA, Banz WJ, Truett GE, Zemel MB (1996)  Dietary fat and gender modify heterozygote effects of the rat fatty (fa) allele.  J Nutr 126:2487-2493, 1996
Maher MA, Banz WJ, Zemel MB (1995)  Variation of blood pressures in lean Zucker rats fed low or high fat diets.  J Nutr 125:2618-2622