Hospitality, Tourism & Event Management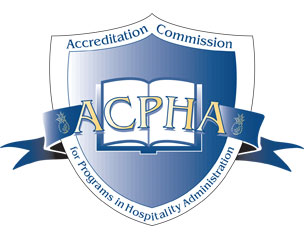 Hospitality and Tourism Administration (HTEM) will soon be Hospitality, Tourism and Event Management (HTEM)!
Our career-focused bachelor's degree in Hospitality, Tourism and Event Management (HTEM) provides you with the professional and technical skills necessary to take you places in one of the fastest growing and most dynamic industries in the world.
Our program is accredited by the Accreditation Commission for Programs in Hospitality Administration (ACPHA) since 1995.
Our program has a student chapter of Eta Sigma Delta International Hospitality Management Society (ESD).
Our program is an institutional member of the International Council on Hotel, Restaurant, and Institutional Education (ICHRIE).
Discover what it takes to work in restaurant or resort management, marketing or operations, event management, or destination management.
Learn about the fundamental principles, management concepts, and analytical procedures vital for professionals in the hospitality and tourism industry.
Experience exciting, hands-on opportunities for internships, community service, and academic excellence. The Department of Animal Science, Food and Nutrition offers facilities to give students access to quality informational, technological, laboratorical, and real-world resources.
Students who have already completed an associate's degree in this field can complete their degree in Hospitality and Tourism Administration completely online.
Applying
To apply for Hospitality and Tourism Administration program, visit the Undergraduate Admissions website and apply to SIU.
Curriculum and Courses
The Hospitality and Tourism Administration program requires the standard 120 credit hours for a baccalaureate degree, including meeting University Core Curriculum and the College of Agricultural Sciences' requirements, which may be met though an approved Associate's degree from an accredited community college.
Check out a sample program and the program's course offerings for an idea of what to expect.
This program offers continuous enrollment, so students may begin the program at any time. Part-time enrollment is available.
Our curriculum has a strong business orientation and emphasizes excellence, quality, and professionalism.
In Years 1 and 2, you will be introduced to fundamental concepts in restaurant, lodging, and event and tourism management.
In Years 3 and 4, you will focus on advanced concepts including management, marketing, finance, law, and human resources.
HTEM Internship Program: Students complete either two 400-hour internships, or one 800-hour internship. Internships expose students to a general system of operations and management experiences.
Students will complete 16 – 18 hours of elective coursework, allowing you to build a program tailored to your specific career interests.
Program Costs
The cost for the Hospitality and Tourism Administration program is determined by SIU's tuition and fee structure. Please refer to the On-Campus Tuition and Fees Calculator for additional information. Visit the SIU Financial Aid Office for information on financial aid, student employment and costs and billing.
Some courses may require the purchase of textbooks, supplies, or other materials. Check out the Net Price Calculator for an estimate on the total cost of attendance.
Financial aid and scholarships may be available. In addition to a wide variety of University-wide scholarships, there are College-wide scholarships available.
Why our hospitality and tourism administration program?
Our state-of-the-art program provides students with the abilities, skills, and knowledge necessary for handling demanding managerial positions. Our graduates are groomed to succeed in an increasingly competitive operational environment.
A degree in Hospitality and Tourism Administration launches exciting careers and opportunities in a wide variety of fields including cruise lines and tour companies; hotels and resorts; restaurants and other foodservice companies; attractions and gaming; meeting and event planning; transportation; and destination management.
Graduates also find rewarding jobs in convention and visitors' bureaus, tourism associations, country clubs, yacht clubs, travel agencies, trade show and exposition companies, timeshare companies, conference centers, sales, and marketing.
Check out the Hospitality and Tourism Career Cluster for more information on possible career opportunities with this degree.
Contact
For questions, or to request more information, please contact the Academic Advisor, Patricia Burns triciaburns@siu.edu or (618) 453-3080.

Additional information
View the Undergraduate Catalog for more information about University policies and requirements.