Welcome from the Dean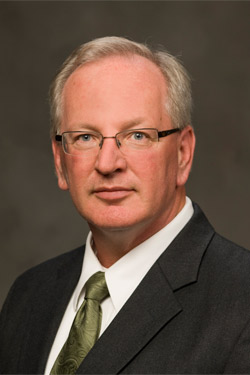 We finish this academic year looking ahead rather than looking back. We have many fine students graduating and preparing to take their places in agricultural industries at all levels. Other students are one step closer but will return in the fall or stay through the summer researching, studying and gaining the skills that come from participation in our college community. And we are looking forward already to the next group of new students, freshmen, transfer and graduate, who will bring their unique personalities and strengths to our agricultural family.
We've had some important visitors this semester. On March 22, the Collegiate Farm Bureau led a great panel discussion with Illinois Representatives Terri Bryant (R) and Brandon Phelps (D), Illinois Farm Bureau Executive Director of Governmental Affairs and Commodities Mark Gehbards and SIU President Randy Dunn. James Tobin, a senior agribusiness major, moderated the panel. 
We also had a visit from U.S. Secretary of Agriculture Tom Vilsack, who held a question and answer session with a small group of students prior to his public presentation. He also attended a reception with refreshments provided and served by students in our hospitality and tourism program. Vilsack urged our students to remain optimistic about career choices as he expects twice as many agricultural industry jobs as there will be trained people to take them. 
We also held our second annual "Elevating Research" initiative. The purpose of this initiative is to bring faculty together through a common venue to discuss and explore research possibilities with colleagues.  I am pleased to report the turnout was strong. A couple of highlights from the event: David A. Lightfoot, professor of plant, soil and agricultural systems talked about using seed funding to finalize some preliminary data as he and his team prepare to apply for a much larger grant: Ruplal Choudhary, associate professor of plant, soil and agricultural systems, is also seeking a larger grant as he continues research into food preservation.
Among our important visitors were high school students by the hundreds. Our annual FFA Livestock and Horticulture Judging Contests drew more than 400 FFA students to campus as they competed, learned and enjoyed our beautiful campus.
Please do enjoy this e-newsletter in which we share with you some of the accomplishments of our College of Agricultural Sciences family. If you are traveling, I hope your journey brings you back to your alma mater for a visit. It would be great to re-connect with you. Have a wonderful summer and look for another e-newsletter in the fall.