Welcome from the Dean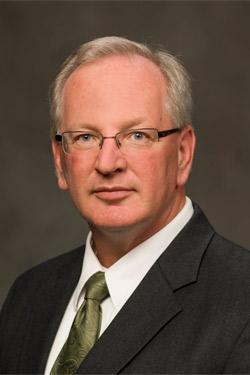 It is fall once again, harvest is in full swing on the University Farms, and the college is busy with many activities.
We have celebrated our 60th Anniversary and Third Annual Fall Festival during which we recognized outstanding alumni – John Kabat, Lifetime Achievement; Jeff Hepke, Mid-Career; and Amanda Martin, Early Career.  We appreciate all the friends, alumni, industry, faculty, staff, and students who participated in making the event a success!
In addition to our regular fall activities, we kicked off our Executive i2i Potash Leadership training at historic Giant City Lodge. Activities included executive leadership training – and an exhilarating zipline experience. These are the students and faculty advisors involved in the project:
Agribusiness Economics major:
Emma Anderson, business practices of local food operations, adviser Matt Rendleman.
Animal Science majors:
Jayden Auvenshine, effect of protein supplement on piglet growth and survival, adviser Gary Apgar.
Valerie Pfaff, effect of fescue endotoxins on ruminal bacteria in beef cattle, adviser Karen Jones.
Crop, Soil and Environmental Management majors:
Shelby Harrington, long-term effect of soil management practices on soil microbial populations and crop yield, advisors Ahmad Fakhoury and Jason Bond.
Austin D. Sherman, determining efficacy of herbicides on annual rye in variable conditions, adviser Karla Gage.
Ben Westrich, evaluating nitrogen loss and residue breakdown potential for fall-applied DAP, adviser Rachel Cook.
Human Nutrition and Dietetics major:
Molly Groninger, hepatoprotective effects of dietary flax, adviser Jeremy Davis.
The Potash Executve i2i Pathway to Excellence is a collaborative program with SIU and Purdue University. These Purdue University students and faculty are also involved in the program:
Jacquelyn Brown, post-harvest storage decisions in Tanzania, adviser Corrine Alexander.
Michael Busche, genetic mechanisms affecting sorghum protein digestibility, adviser Cliff Weil.
Jacob Wheatley, technology for phosphorous recovery with minimum environmental impact by Life Cycle Assessment (LCA), adviser Shweta Singh.
Our faculty continue to research and address emerging issues with our undergraduate and graduate students.  As a college, we are proud of the outstanding work these individuals do to support our programs and bring tremendous opportunities for our students and the region. 
Our college strives for excellence across all areas because of our commitment to our students and thus, we embrace that challenge with award-winning faculty members who assist in the development of our outstanding students! 
If you haven't been for a visit lately, I would invite you to come see all the good things happening! Be sure to make plans to join us for the 64th Annual All Ag Banquet on February 26, 2016, beginning at 6 p.m. in the SIU Student Center. Celebrate our successes with us!