Anthony Agbeh, Ph.D.
Instructor, Animal Science Food and Nutrition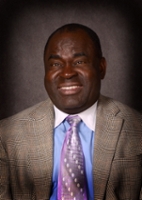 Office Phone: 618 | 453-2462
E-mail: aagbeh@siu.edu
Building Location: Quigley Hall, Room 209-A

Agbeh is Professor Emeritus at Ferris State University. A veteran educator who has served as a professor as well as a department head. He is a founding fellow of American Hotel and Lodging Educational Foundation. He served in several industry boards and consults with business and industry on leadership, customer service, conflict resolution, time management and diversity issues. He is currently serving as the Provost Assesment Fellow for Spring 2017 in addition to his teaching responsibilites.
Special Interests
Agbeh has over 20 national conference presentations and panel discussions. He is a reviewer of annual CHRIE conference and graduate conferences. He has reviewed several textbooks in the hospitality industry curriculum and chapter text books. His specialty and interests areas include curriculum and instructions pedagogy.
Classes
HTA 202, Introduction to Hospitality Industry
HTA 371, Field Experience
HTA 372, Front Office Management
HTA 380, Hospitality and Human Resources
HTA 440, Hospitality Risk Management
HTA 461, Service Organization and Management
HTA 470, Facilities Management
HTA 473, Hotel Administration\
Descriptions are available for each of these classes in the course listing for Hospitality and Tourism Administration.
Education
Ph.D., Curriculum and Instruction, Southern Illinois University
MS, Hospitality and Tourism, Florida International [Miami, FL]
BS, Hospitality and Tourism, Florida International [Miami, FL]
Publications
Agbeh, A. & Jurkowski, E. (2015 under review) Medical Tourism: An Emerging Terrain.
Agbeh, A. (2015 under review) Problem Based Learning in Hospitality and Tourism Program. 
Agbeh, A. (2014) The Impact of Problem-Solving Skills and Sense of Community in the Classroom. Review of Higher Education and Self Learning (RHESL) (7). 24.
Amete Pee, Tchinsala & Agbeh (2014) The No Child Left Behind Act, The Common Core State Standards, and the School Curriculum. Review of Higher Education and Self Learning (RHESL) (7). 24.
Agbeh, A. Hospitality  Students Perception of Problem Based Learning Approach and a Sense of Community in the Classroom.
Agbeh, A & Elfink, J. Assessment Outcome in the Hospitality Education:"Implication for the future"Hospitality Research Journal (18) 3.
Agbeh, A.  & Buchanan P. Case studies in Hospitality, Travel and Tourism,"International Case Clearing House.
Agbeh, A. Co-authored Revised monitoring handbook:Career tech education hospitality food service,Michigan Department of Education.
Agbeh, A & Heroux M, Community Connection, Hosteur vol 6,no 1
Agbeh, A. "What hospitality industry can do for Restaurant industry" Michigan Restaurateur.
Agbeh, A."What hospitality  industry can do for hospitality education"the Management Magazine of Michigan travel&Tourism.
Awards
Professor Emeritus Ferris state University
Fellow American Hotel & Educational Foundation.
Certified Hotel Administration (CHA)
Who is Who in  American Education
Who is Who in the Lodging Industry