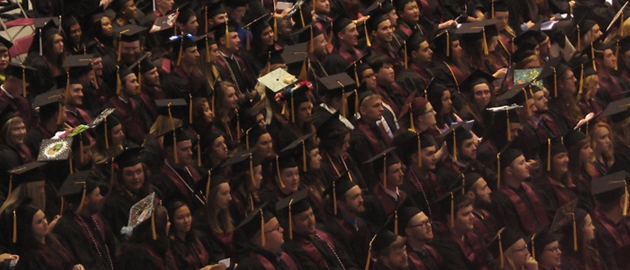 Welcome to the spring-summer 2017 College of Agricultural Sciences newsletter
June 02, 2017
Students are the reason we are here and this issue of the newsletter focuses on them.
In this newsletter, you'll will learn about a pair of graduating seniors who are both Saluki athletes. Cara Engel is a pole vaulter, Shaye Harre is a record-breaking slugger on the softball team. Harre always knew she wanted a career in agriculture, Engel changed the course of her career path after finding it a better fit than the exercise science degree she'd initially seen herself pursuing.
We'll tell you about graduate student Liz Hillard, who earned her undergraduate degree here at SIU, worked in the field for a few years and now has returned to earn her doctoral degree. She researched elk in the Smoky Mountains, studying what they eat and where they shelter, but now she's back to swamp rabbits. Hillard worked with swamp rabbits as an undergraduate assistant and now she's heading the project. Her work may help drive policy in the Cache River Cypress Creek National Wildlife Refuge.
We want you to know about Ben Westrich, an undergraduate who has been involved in research almost as long as he's been at SIU. He's particularly interested in nitrogen run-off and soil fertility. Ben presented his most research to a group of his peers at the 2016 joint annual meeting of The International Agronomy, Crop Science, and Soil Science Societies of America in Phoenix, Ariz. We'll be sending more students to that conference in the future.
Finally, take a look at our LED-light grow room, a crowd-funded facility that gives our students continued easy access to plants for classroom laboratory work and research projects.
Enjoy the summer and congratulations to our class of 2017!
Dean Mickey A. Latour