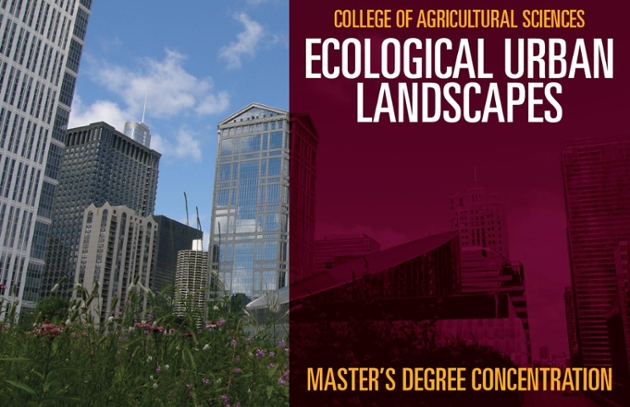 Ecological Urban Landscape
Master Degree (Beginning Fall 2015)
Concentration in Plant, Soil and Agricultural Systems
This is an ONLINE program with the exception of the 3 hour credit, one week practicum at the end of the coursework.
Program description
The success of developing sustainable urban landscapes is based on education of principles in natural systems as water, soil, and plants as well as practical skills in design and installation of a built landscape which influences these systems. This program seeks to offer to the student a core understanding of ecological systems in relation to urban landscape design and construction as well as practices and management skills with the balance of ecological systems in mind. While the value of stewardship will be emphasized, the value of quality outdoor spaces for human function and enjoyment will be of equal worth. The contemporary urban population seeks a healthy lifestyle with convenience and relaxation yet strives to not only balance their impact on the environment but also to assist in regeneration of a sustainable environment. This program will prepare the student in decision making related to the design and/or management of urban outdoor spaces using ecological principles and a sound design process with the interest of profiting the environment, the users and the professional.
Program
| | | |
| --- | --- | --- |
| Semester | Course | Credit Hour |
| FALL | | |
| PSAS 480 | Designing outdoor spaces | 3 |
| PSAS 563 | Plants for the urban landscape | 3 |
| FOR 528 | Urban tree management | 3 |
| | *Approved Elective | 3 |
| PSAS 548 | Fundamentals in urban soils | 2 |
| Spring | | |
| PSAS 469 | Organic gardening | 3 |
| GEOG 521 | Urban sustainability | 3 |
| FOR 415 | Urban ecosystem management | 3 |
| PSAS 564 | Growing fruit in the urban environment          | 3 |
| PSAS 562 | Sustainable landscape practices | 3 |
| Summer | | |
| ANS 563 | Fundamentals of poultry | 1 |
| PSAS 565 | Bee management in urban spaces | 1 |
| PSAS 583 | Ecological urban landscapes practicum | 3 |
Students in Ecological Urban Landscapes must complete 30 credit hours from the following curriculum which must include:  FOR 528, PSAS 548, FOR 415 and PSAS 583. PSAS 590 Readings or PSAS 592 Special Problems are available for students who have completed a course for another degree and needs additional coursework to fulfill 30 credit hours.
What are careers opportunities?
Professionals and persons involved in urban landscapes are diverse in discipline. To name a few, landscape architects, landscape contractors, horticulturists, policy makers, engineers, architects, urban farmers, urban foresters, city planners, city park administrators, developers, business persons and residents. To further broaden the arena, cities are beginning to mandate practices addressing critical issues as storm water management, loss of biodiversity, and urban heat effect. Consumer demands are moving towards sustainable landscapes, local and healthy foods, and a healthy outdoor living environment. Therefore, the subject of urban ecological landscapes is not limited to a single profession or discipline yet the demand for a knowledge base of the subject is large. However, there are careers directly requiring this knowledge in growing industries as urban forestry, landscape design/build including green roof and vertical garden industry and urban agriculture. This latter group of professionals is engaged in projects integrated with natural systems in virtually every design, installation and maintenance job performed.
How do I apply for the Ecological Urban Landscapes graduate program?
Go to the SIU Graduate School website and follow their instructions to first apply to SIU, but specify this program. Please note that Ecological Urban Landscapes is a concentration in the Plant, Soil and Agricultural Systems Department in the College of Agricultural Sciences (as you search for the program online).  Use this link for a short cut to apply to the graduate school:  http://gradschool.siu.edu/applygrad/index.html