Hospitality and Tourism Administration
Our career-focused bachelor's degree in Hospitality and Tourism Administration provides you with the professional and technical skills necessary to take you places in one of the fastest growing and most dynamic industries in the world.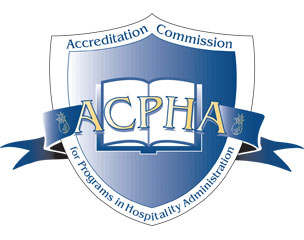 SIU HTA program is accredited by the Accreditation Commission for Programs in Hospitality Administration (ACPHA) since 1995.
SIU HTA program has a student chapter of Eta Sigma Delta International Hospitality Management Society (ESD).
SIU HTA program is an institutional member of the International Council on Hotel, Restaurant and Institutional Education (ICHRIE).
Discover what it takes to work in restaurant or resort management, marketing or operations, event management or destination management.
Learn about the fundamental principles, management concepts and analytical procedures vital for professionals in the hospitality and tourism industry.
Experience exciting, hands-on opportunities for internships, community service and academic excellence.
What will I study?
In years one and two, you will be introduced to fundamental concepts in restaurant, lodging, event and tourism management. In years 3 and 4, you will focus on advanced concepts including management, marketing, finance, law and human resources. The curriculum has a strong business orientation and emphasizes excellence, quality and professionalism.
Our exciting internship exposes students to a general system of operations and management experiences. Students complete either two 400-hour or one 800-hour internship.
Students complete 16-18 credit hours of elective course work. This allows you to build a program tailored to your specific career interests.
Our state-of-art program provides students with the abilities, skills, and knowledge necessary for handling demanding managerial positions. Graduates are groomed to succeed in an increasingly competitive operational environment.
Below is an example of a typical four-year undergraduate degree program in Hospitality and Tourism Administration.
Where will I work?
A degree in Hospitality and Tourism Administration launches exciting careers and opportunities in a wide variety of fields including cruise lines and tour companies; hotels and resorts; restaurants and other foodservice companies; attractions and gaming; meeting and event planning; transportation; and destination management.
Graduates also find rewarding jobs in convention and visitors' bureaus, tourism associations, country clubs, yacht clubs, travel agencies, trade show and exposition companies, timeshare companies, conference centers, sales, and marketing.
Job titles include:
Restaurant manager
Lodging manager or owner
Casino manager
Food service manager or owner
Tour company owner or tour operator
Theme park manager
Travel agent
Chef
Human resources management
Meeting, convention and event planners
Purchasing management and buyer
Advertising, promotions and marketing managers
Sales manager
Recreation, amusement and other attractions